Although New Jersey has been liberal with its sports gambling regulations, it is still prohibited for sportsbooks to allow bets on college-level sporting events. Some operators have already gotten in trouble after they were found to have allowed wagers to be placed on several off-limits college games, and lawmakers in the state are prepared to try to prevent the activity from recurring. They are said to be contemplating the fines that are associated with violations.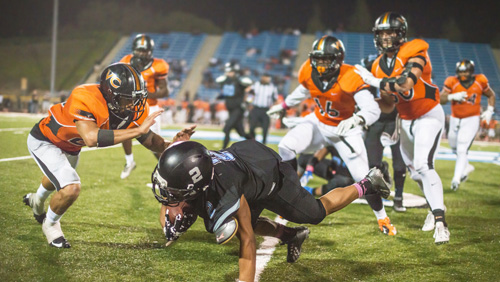 According to NJ Online Gaming, Ralph Caputo, a state Assemblyman from Essex County, would like to see the fine increase from its current $2,000 level to between $20,000 and $100,000. He told the media outlet on Monday, "It's insulting, really, for any of them to ignore the clear will of what the people voted for. The Division of Gaming Enforcement does a terrific job, but all they have right now is a slap on the wrist."
The Golden Nugget, Resorts Casino and Caesars Entertainment all came under fire last year after it was discovered they had allowed wagers to be placed on college games. Both the Golden Nugget and Resorts Casino had received bets on two football games—Princeton vs. Columbia and Rutgers vs. Indiana—and Resorts was also busted for accepting bets on another football game, as well as a men's basketball game. Caesars was presented with a $2,000 fine for allowing bets on a Rutgers vs. Kansas football game.
Caesars weakly tried to blame a computer glitch for the bets being allowed. However, the company was saved, as now wagers were actually placed.
Even Caputo doesn't buy the "computer glitch" excuse and most likely realizes that a $2,000 fine for a company that made over $4 billion in 2017 is laughable. His bill was unanimously accepted during an Assembly committee meeting last Thursday and now continues its trek across the legislative avenues.
Caputo points to the 2011 ballot question regarding sports bets in order to show what voters in the state wanted. That question read, "This constitutional amendment would authorize the Legislature to pass laws allowing sports wagering at Atlantic City casinos and at racetracks. Wagers could be placed on professional, certain college, or amateur sport or athletic events. However, wagers could not be placed on college games that take place in New Jersey or in which a New Jersey college team participates regardless of where the game takes place. A wager could be placed at a casino or racetrack either in-person or from any other location through an account wagering system that uses telephone, Internet or other means."
The lawmaker isn't opposed to allowing bets on sports events, provided it is authorized through legal channels. He asserts, "All I say is that it would have to go through the proper process."
Comments