The World Poker Tour have secured a distribution deal with BTSports, and Mohamed Abdou wins the record-breaking WPTDeepStacks Brussels Main Event. 
Poker fans in the UK & Ireland are in for a treat after The World Poker Tour (WPT) secured a distribution deal with BT Sports to show Season XV coverage through the British Isles.
The new deal sends the WPT brand into more than 3.6m eyeballs, with BT Sports channels 1, 2 & 3 all showcasing the greatest live poker tour in North America.
Rich Sarris, Manager of Content Distribution in the UK for the WPT, and mastermind behind the deal said he is "thrilled" to be partnering with one of the largest sports television networks in the UK.
"As the World Poker Tour continues to expand on a global scale, BT Sport will play a significant role in putting the World Poker Tour in front of a new audience."
Most people will remember Season XV as the year that Benjamin Zamani broke through as the Player of the Year, and for Sam Panzica's two triumphs, but everyone will recognise it as the unique occasion when WPT stalwart Mike Sexton stepped out of the commentary booth to win a WPT Main Event for the first time.
BT launched its sports channels in 2013 in reaction to Sky offering free broadband to all of their existing customers. The birth of BT Sports resulted in them gaining a market share of the English Premier League (EPL) with BT paying £246m per season for live coverage, breaking the monopoly that Sky had on the TV rights at that time. In the same year, BT also paid £897m to wrest the rights for UEFA Champions League and Europa League coverage from Sky.
Mohamed Abdou Wins WPTDeepStacks Brussels
A WPT victory that won't be shown on BT Sports belongs to Mohamed Abdou (sorry, Mohamed).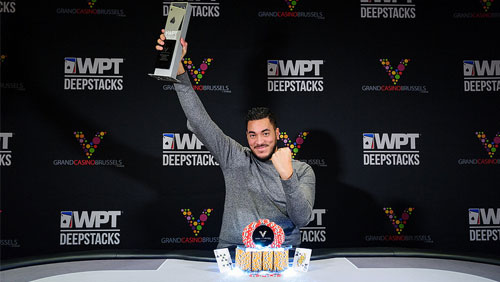 Abdou took down the 584-entrant WPTDeepStacks Brussels Main Event at the Grand Casino Viage, after dismantling Rehman Kassam in a heads-up encounter that lasted no longer than an episode of The Simpsons.
It was a sweet time to win it as a WPT event has never pulled in a Belgian crowd this big before. Abdou played after bubbling an online satellite on Winamax. The French online poker room gave him €500 to drown his sorrows, and he thought, "what the heck," and came anyway.
It was his eighth ITM finish, but his first-ever win. His previous best was a 3/325 finish in a €600 buy-in Main Event at the France Poker Open for €14,600
It was a star-studded event with the WPT Champions Club member, Michael Mizrachi, finishing 27th, WPT Main Event runner-up, Paul Berende, finishing 44th and the Triple Crown winner, Davidi Kitai, finishing in 56th.
Final Table
1. Mohamed Abdou – €118,000*
2. Rehman Kassam – €79,000
3. Thomas Sorre – €57,000
4. Nissim Vaknin – €42,000
5. Alexandre Reard – €32,000
6. Fernando Garay – €25,000
7. Kyriakos Papadopoulos – €19,000
8. Gelle Samatar – €15,000
9. Joris Ruijs – €11,700
* Includes a season-ending WPTDeepStacks Championship package