The company behind the Solaire Resort and Casino in Manila, Bloomberry Resorts, is getting listed on the Philippines Stock Exchange (PSE) Index. The move comes as Bloomberry is set to replace another company on the index and take its place on February 18, according to a press release on the PSE website.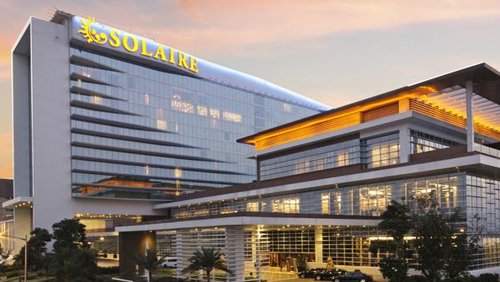 Bloomberry will be seen in lieu of Petron Corp., which is being removed "based on the review of listed companies covering trading activity from January to December 2018," according to the PSE. Companies qualify for listing if it has a free float of at least 15% of outstanding shares, as well as other "relevant financial criteria."
According to the PSE's Edge website from last Friday, Bloomberry was first listed in October 2000. It currently has a market capitalization of around $2.44 billion and a free-float level of 25.37%. When trading began Friday morning, shares opened at $0.22 and increased to $0.23 by the end of the day.
According to Ramon S. Monzon, the president and CEO of the PSE, "The regular review of indices reflects the dynamic changes in company performance vis-a-vis the standards set by the Exchange. In turn, these indices represent the investment opportunities in the Philippine stock market."
The PSE also mentioned in its announcement that Melco Resorts and Entertainment would be taken off the PSE's Services Index. Melco is behind the City of Dreams Manila, as well as other casino operations throughout the world.
Melco Resorts Philippines saw its trading suspended last December after the company's free-float level fell below the lower threshold of 10%.
In other PSE news, Asia United Bank Corp. is going to come off the Financials index and Alliance Select Foods International, Inc. will be added to the Industrial index. PetroEnergy Resources Corp., SFA Semicon Philippines Corp. and Phoenix Petroleum Philippines, Inc., have also been dropped from the Industrial index.
The Solaire project is meant to give Bloomberry a boost in its bottom line, but this may take a while. The company, which also operates the Jeju Sun Hotel & Casino in South Korea, said last November that the project had forced it to outlay more cash, which lowered Bloomberry's EBITDA (earnings before interest, taxes, depreciation and amortization) and substantially increased its expenses.