The action from the World Poker Tour's first Russian stop has come to a halt with Denys Shafikov winning the Main Event, and partypoker ambassador, Anatoly Filatov, winning the High Roller.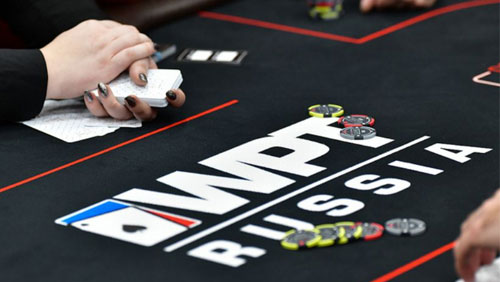 The World Poker Tour (WPT) ticked another item off the bucket list after hosting an event in Russia for the first time in the tour's illustrious history.
The partypoker LIVE WPT Russia Main Event took place at the Casino Sochi, and it was a resounding success with 503-entrants, creating a top prize of $255,259 and a seat in the season-ending Baccarat Crystal WPT Tournament of Champions.
The final table of six threw up three split ends each with a poker story to tell.
Nikolay Fal finished 6/649 in last year's PokerStars European Poker Tour (EPT) Open Sochi Main Event for $45,848, and also won the 398-entrant $2,700 side event at the partypoker LIVE MILLIONS Russia in 2017, earning $230,000. Mikhail Galitskiy finished 7/692 in the partypoker LIVE MILLIONS Russia Main Event last year making $94,423. And then you had Denys Shafikov who finished 4/1694 in the 2015 EPT Barcelona Main Event earning a career-high €405,100.
Galitskiy was a gonner in fifth place, and Fal fell in sixth. Shafikov went all the way, in a performance the WPT live tournament blog described as dominating.
Winning a live tournament was a new experience for Shafikov, and he began his heads-up clash with Aleksey Gortikov holding a slight chip lead. Gortikov doubled once to make it an even contest, and then this happened:
With blinds of 75k/150k Shafikov opened to 375k holding Kc3d, and Goritkov defended with only the Qd shown to the live stream audience. The flop was a soaking wet 6h5c4h, and both players checked. The turn was the 2c to give Shafikov a straight; Gortikov bet 400k, and Shafikov made the call. The river was the 8d, and Shafikov made it 700k to play once checked to, and Gortikov made the call before mucking his hand, unseen, giving Shafikov a 12.1m v 3.2m chip lead.
Gortikov was unable to muster a comeback. In the final hand, he moved all-in for 4.5m, holding Ac7c, after Shafikov had opened to 375k holding pocket nines. A no-brainer later, and the pair were staring down the barrel of five community cards that fell Ks3h2d9s4h to give Shaifkov a set of nines, and the win.
Final Table Results
1. Denys Shafikov – $255,259*
2. Aleksey Gortikov – $171,236
3. Yauhen Kontush – $110,736
4. Nikolay Fal – $79,768
5. Mikhail Galitskiy – $62,751
6. Oleg Pavlyuchuk – $51,051
*Indicates a seat into the $15,000 Baccarat Crystal WPT Tournament of Champions
Three other stars of the Eastern European poker circuit who went deeper than an unwanted cat in a bag full of tins of cat food dropping to the bottom of a lake were the World Series of Poker (WSOP) bracelet winners, Konstantin Puchkov (18th) and Konstantin Maslak (41st), and the talented Aleksandr Denisov (22nd).
partypoker Ambassador, Anatoly Filatov, won the High Roller for $119,730. In October, Filatov won the partypoker MILLIONS Russia Main Event for a career-high $944,230.