3: Barrels of pure partypoker poison including a Grand Prix win for Yi Tong, an online high roller victory for Patrick Leonard, and the return of the $5,300 buy-in, $1m GTD Big Game.
When you close your eyes and think of partypoker, after the image of John Duthie in a thong fades from memory, you see the word MILLIONS lit up in neon lights overhanging the doorway to a shed on an industrial estate somewhere.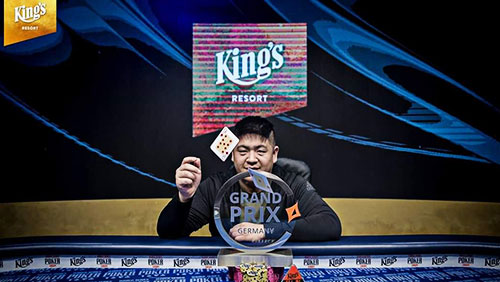 "Where's the beach?" Asks the little lad with a bucket in one hand, and a spade in the other.
Someone screams from head office: "There isn't one!"
That's the posh end of things.
The caviar.
The Jimmy Choos.
The private jets.
But that's not what makes partypoker partypoker. It's events like the Grand Prix that make partypoker partypoker, and this week, Yi Tong took one down in the King's Casino, Rozvadov.
The €220 No-Limit Hold'em event attracted 2,142 unique entrants, and 676 re-entries, not bad for a town of 300 people and a few cats and dogs. The final table contained an array of fisherman, frogmen and farmers. Only Petr Kubênka who had finished 6/2085 in a World Series of Poker Circuit (WSOPC) event in the King's Casino and Jiri Holik seemed like seasoned veterans, with the rest taking up the slack. Even the winner had only cashed three times before with his personal best an €853 score, making Tong's €53,637 first prize something special.
Here are the final table results:
Final Table Results
1. Yi Tong – €53,637
2. Max Petzelberger – €48,615
3. Unknown – €36,333
4. Petr Kubênka – €35,956
5. Unknown – €28,679
6. Kanlaya Boonchan – €11,000
7. Olena Marchenko – €7,500
8. Jiri Holik – €6,250
Two more familiar names that went deep in this one were the former partypoker MILLIONS Final Tablist Philipp Zukernik (17th) and the World Series of Poker (WSOP) bracelet winner, Tamir Segal (33rd).
The last time partypoker held the Grand Prix Germany in the King's Casino, Michal Cep took the €86,300 first prize after beating a field of 2,537 entrants, and 760 re-entries.
Next up for the Grand Prix circuit is a visit to that shed on an industrial estate 20-27 January for the €165 buy-in, €150k GTD event. The organisers have sheared £100,000 off the 2018 guarantees after the September event missed by £53,000, and the August one seemed to come in smack on the money.
Patrick Leonard Wins Another One
partypoker ambassador, Patrick Leonard, added another online title to his resume this weekend. The former Pocketfives #1, took down the 133-entrant $1,050 buy-in, $150,000 Guaranteed Sunday High Roller Bounty Hunter on partypoker. Leonard's fellow partypoker ambassador, Richard Dubini, also made the final table finishing sixth.
Leonard has now earned $6.4m playing online multi-table tournaments (MTTs), $1,7m on partypoker, and is currently ranked #10 on PocketFives. It's been a cracking start to the year for Leonard after finishing 3/3139 in a $109 buy-in event for $22,966.61, 6/323 for $14,437.19 in a $2,100 game, and 5/253 in a $1,050 buy-in earning $15,090.43 all in the PokerStars Winter Series. Leonard has also rang in some impressive numbers in the PokerStars High Roller Club finishing 2/102 in the $1,050 event for $18,059.90, and 3/116 in the same event for $15,097.86.
Here are those final table results:
Final Table Results
1. Patrick Leonard – $40,100
2. Rudiqa1 – $16,198
3. X_zola25 – $11,292
4. Dark_Poker – $12,786
5. i remember – $6,150
6. Richard Dubini – $5,821
7. MinusEve – $3,900
8. Paul07new – $3,075
The Next Big Game is Set for 27 January
After setting the record for the richest online poker tour in history in 2018, partypoker continues to provide value for its customers in the form of the $1m GTD Big Game.
The second iteration of the new $5,200 buy-in freezeout takes place on 27 January at 19:00 (GMT), and satellites run daily on partypoker for as low as $1.10.  TIMEXCNT won the December event, beating a field of 192-players, to bank the  $195,788 first prize after cutting a heads-up deal with iluvia71 who banked $184,511.​
Comments