Israelis are lighting the World Series of Poker Europe on fire with strong showings in the first three events, including a bracelet win in the COLOSSUS.
You can't play live poker in Israel.
White powder.
Weapons.
Murder.
I get it.
But poker?
As I sit at my inkwell desk, thinking back to my fountain pen days, the thought of not being able to play poker because it's banned, makes me want to jab that quill into someone's eye.
It's as absurd as a child believing a fairy sneaks under your pillow to trade your rotten arse tooth for a quid.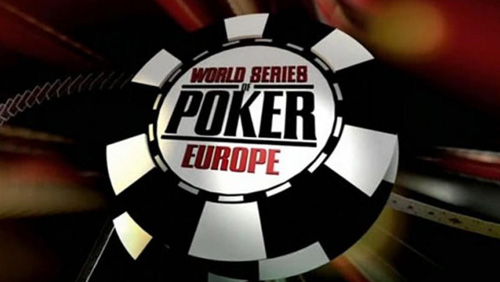 But, it doesn't seem to stop them kicking arse.
Timur Margolin took down the $2,500 No-Limit Hold'em title in the summer, earning half a million bucks in the process, and his compatriots have hit the World Series of Poker Europe (WSOPE) running like Usain Bolt.
It took less than four hours to condense the final ten players of Event #1: €550 COLOSSUS No-Limit Hold'em into a winner. 2,991 entrants made sure the €1m Guarantee would create no blushes, and it was Israel's Tamir Segal who took the title, making light work of the Day 2 Chip Leader, Wojciech Wyrebski, heads-up.
Heads-Up
Segal – 58,550,000
Wyrebski – 16,200,000
The whole affair lasted four hands.
Then this…
Wyrebski opened to 3m on the button, and then called Segal's shove. The Pole was ahead with AcQd versus KThh, but a king on the flop and a ten on the river reversed the fortunes of the two players, and Segal was our winner.
Before this tournament, Segal had only cashed in nine tournaments. His most significant cash was $2,000 for finishing 2/76 in a $150 buy-in event at The Venetian. He had won two previous games, beating 28-entrants in a $150 buy-in event for $982, and 28-entrants in a $140 buy-in event, both at the Wynn, Las Vegas.
It was his first-ever cash in a World Series of Poker (WSOP) event, outside of the World Series of Poker Circuit (WSOPC) where he cashed in a game in Campione, Italy, back in 2016 for a minor amount.
Here are the final table results.
Final Table Results
1. Tamir Segal – €203,820
2. Wojciech Wyrebski – €125,966
3. Aksel Ayguen – €92,385
4. Dariusz Glinski – €68,331
5. Hannes Neurauter – €51,854
6. Francesco Delfoco – €38,349
7. Flavio Decataldo – €29,104
8. Krasimir Yankov – €22,281
9. Bjorn Bouwmans – €17,209
10. Nelio Gatta – €13,410
The Best of the Rest
By the time you have read this, Asi Moshe could make it a 1-2 for Israel, as the WSOP bracelet winner is one of the favourites to take down Event #2: €1,650 No-Limit Hold'em 6-Handed Deepstack.
The 221-entrant field is now a 6-player final table.
Here it is.
Final Table
Seat 1: Robert Schulz – 709,000
Seat 2: Asi Moshe – 2,095,000
Seat 3: James Bullimore – 1,822,000
Seat 4: Giuliano Bendinelli – 999,000
Seat 5: Viktor Katzenberger – 574,000
Seat 6: Van Tiep Nguyen – 430,000
In 2014, Moshe beat 2,396 entrants to take down the $582,321 first prize in a $1,500 No-Limit Hold'em event.
Shaun Deeb extended his lead at the helm of the WSOP Player of the Year race with an eleventh place finish.
34 people finished ITM.
Event #3: €550 Pot-Limit Omaha 8-Handed
There's a long way to go in Event #3: €550 Pot-Limit Omaha 8-Handed, but a man from Israel is leading the way after Day 1A. The event has so far attracted 230-entrants (152 unique, 78 re-entries), and 21 got through the first flight.
Of note, the Global Poker Index (GPI) August Player of the Month, Michael Soyza, is in the mix, as is one of the most in-form Frenchmen in the world, Romain Lewis, who made three WSOP final tables in the summer.
Top Ten Chip Counts
1. Dor Tal – 643,000
2. Peter Jaksland – 343,000
3. Michael Magalashvili – 339,000
4. Hael Al Labani – 310,000
5. Alfredo Vega Meister – 300,000
6. Aaron Duczak – 265,000
7. Sebastian Obermeier – 249,000
8. Michael Soyza – 224,000
9. Tarek Alonso – 218,000
10. Romain Lewis – 209,000
WSOP bracelet holders: Dutch Boyd (190,000) and Chris Ferguson (148,000) remain in the hunt for bracelets four and seven, respectively.