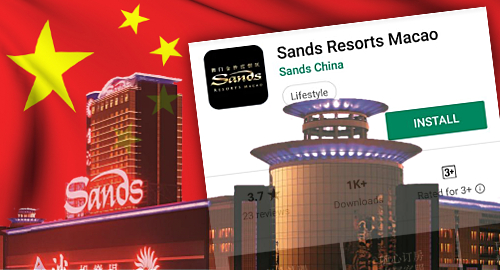 Casino operator Las Vegas Sands is denying media reports that its Sands China division had a mobile app banned by Chinese authorities.
Last week, China's Office of the Central Cyberspace Affairs Commission announced that it had banned 3,469 mobile apps involved in "pornography, gambling, illegal games and malicious programs." The report said these apps were capable of "great social harm" and must be "attacked by all means."
Among the apps hit with China's ban hammer was one bearing the Chinese character for Sands Macao (澳门金沙), the name of one of Sands China's casino properties in Macau. Sands China does have a 'Sands Resorts Macao' app for promoting its non-gambling amenities, as promotion of gambling is illegal on the Chinese mainland.
A few days later, Sands China issued a statement to the Macau News Agency stating that "all our official mobile apps continue to be accessible and function normally from within China. Our applications and websites comply strictly with Chinese rules and regulations."
There is the distinct possibility that the Sands Macao app that earned the ire of Chinese cybercops was using Sands trademarks without permission. Last August, authorities in China's Jiangsu province reported busting an illegal online gambling operation that utilized multiple Macau casino operators' trademarks, including Sands' Venetian mark.
Sands has been dealing with similar brand thieves for years now, and while it has consistently taken legal action against these poachers, enforcing the resulting court judgments has proven more difficult. This strategy has also failed to deter copycats, as Macau officials announced last November that there were some 237 gambling websites using Macau casino operators' trademarks without authorization.
China's app crackdown announcement came just days after China's Supreme People's Court issued new guidelines for judges to ensure they "severely punish cybercrime in accordance with the law and effectively maintain cybersecurity." Of the five cases contained in the guidelines, two dealt with illegal gambling offered over Chinese social networking apps.