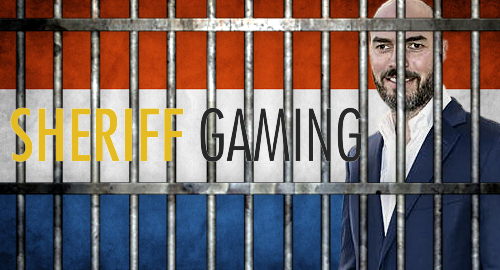 The former heads of defunct slots developer Sheriff Gaming are going to jail after being convicted of illegal gambling, money laundering and tax evasion.
On Wednesday, Dutch media reported that Stijn Flapper, Maurice Gregoire and Michel Gregoire had been sentenced to hefty prison terms for their involvement in an illegal online gambling operation that laundered up to €123m derived from a variety of other illicit activities, including – as alleged by prosecutors – drug trafficking.
Flapper (pictured), the former CEO of Sheriff Gaming's parent company Bubble Group NV, was sentenced to two years in prison. Michel Gregoire also received a two-year stint in stripes, while his brother Maurice got off comparatively lightly with a mere 16-month sentence.
All three actually got off relatively easy, as court proceedings in October saw prosecutors request a four-year sentence for Flapper, while the Gregoire brothers were looking at up to three years behind bars.
The trio's tax adviser was handed a seven-month sentence, but a female lawyer who assisted the trio in their dealings with their former companies escaped a prison sentence after the judge determined there was insufficient evidence proving guilt. Flapper's mother was among the dozen or so others convicted in the case, although her punishment was limited to community service.
The case dates back to May 2012, when Dutch prosecutors launched a probe into the alleged criminality. The following year saw a series of raids across multiple European markets and the seizure of assets prosecutors alleged were the proceeds of crime. The three main suspects protested their innocence to the end, particularly the allegations of drug trafficking.
The trio is also looking at some hefty financial restitution, including personal fines of €100k apiece. There's also an outstanding tax bill of around €13m owed by one of the companies involved in the laundering, and the state intends to keep millions' worth of assets seized from the trio in 2013.
The defendants had argued that their online activities weren't illegal given the perpetual uncertainty surrounding the Netherlands' efforts at updating their online gambling laws. But the judge rejected this gambit, saying it didn't matter that the current law on the books predated the internet, i.e. gambling is gambling and illegal gambling is illegal gambling.
Speaking of, the Dutch Senate will reportedly hold a debate on the long-delayed Remote Gambling Bill on February 5, with a final vote to follow on February 12. The bill was approved by the legislature's lower house over two years ago, but has languished in the Senate ever since.