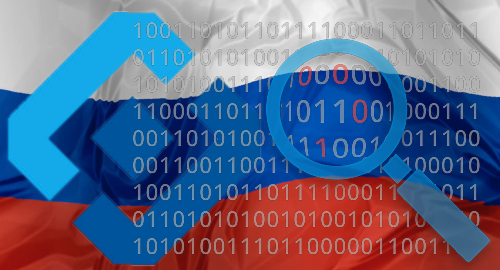 Russia's ban-happy telecom watchdog has vowed to spend up to RUB20b (US$295m) building a better system to keep Russians from accessing forbidden online content.
In October, Alexander Zharov, boss of Russia's telecom watchdog Roskomnadzor, let it slip that the agency was preparing "a completely new system of filtering and blocking [illegal] content." On Tuesday, the BBC Russian Service reported that this new system involves 'deep packet inspection' (DPI) to examine the content of digital messages en route to their intended recipients.
Roskomnadzor's current filtering toolbox relies on an ineffective domain-blocking system that routinely targets thousands of international gambling sites serving Russian punters without local permission (including another 3,300 gambling domains in the week ending December 14). Last week also saw Roskomnadzor fine Google for failing to block forbidden sites from appearing in Russian search results.
Testing of the new DPI system began in August and reportedly ramped up in recent months, including trials in several major cities. Several local companies are reportedly competing for the right to operate the new system, and the trials are being overseen by Roskomnadzor, the FSB security agency and the Ministry of Digital Development.
WALLED GARDEN
On December 14, Russia's Duma received drafts of new legislation that would create an autonomous Russian internet – an extension of the informal Runet Russian-language networks – that could operate independently of the international network and would allow strict oversight of all cross-border internet traffic.
The bill's authors insist this walled garden would only be activated in the case of an 'emergency' but the bill would establish a number of choke points through which international communications would be routed. Roskomnadzor's new filtering system would work within these choke points to ensure no forbidden material gets in or out.
The sweeping new restrictions envisioned by the legislation have been likened to China's infamous 'great firewall' and are being fiercely criticized by Russia's remaining internet privacy advocates, with one wag describing it as "treating a headache with a guillotine."
Russia's already authoritarian government has become increasingly paranoid about its citizens' interactions with the outside world. This month has already seen new legislation that would put further restrictions on Russians' dealings with international payment processors. This is on top of the new online gambling payment restrictions that took effect earlier this year.
Russians are avid gamblers but their government doesn't share their enthusiasm. While the government has issued a handful of online sports betting licenses to local operators, it continues to view the gambling sector as something to be tolerated rather than celebrated.
This week, Russia's Duma adopted legislation aimed at creating a more stable environment for international companies looking to do business in the county. The law would prohibit the detention of businessmen suspected of fraud, copyright infringement, embezzlement and other 'minor' crimes, while closing criminal cases after the entities involved had paid the necessary financial penalties. However, the law specificially states that these new protections won't apply to individuals suspected of illegal gambling activities.