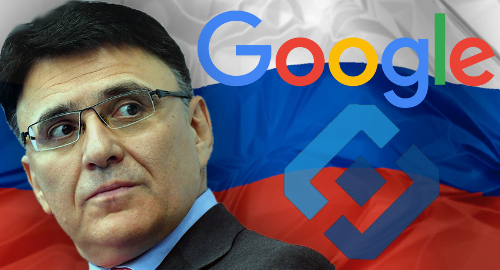 Russia's telecom watchdog has made good on its threat to issue a financial penalty to Google for refusing to scrub forbidden material – including internationally licensed gambling sites – from its Russian search results.
On Tuesday, Russian news outlet Tass reported that Russia's Roskomnadzor telecom watchdog had imposed a RUB500k (US$7,500) fine on the Western tech giant for failing to connect its Russian search results with the country's federal state information system (FGIS).
Roskomnadzor opened an administrative case against Google in late November, after repeatedly complaining that the search engine was continuing to allow "prohibited internet resources" to appear in search results for Russian users. These include the tens of thousands of online gambling domains that Roskomnadzor blacklists each year, including another 13,600 domains in the month of November and another 3,200 in just the first week of December.
Google's fine is below the maximum penalty of RUB700k that Russian law allows for this type of offense, suggesting that Roskomnadzor is at least attempting to show some restraint, perhaps in the hope that the tech giant will prove more amenable to the watchdog's requests/demands.
But Roskomnadzor chief Alexander Zharov said Tuesday that the regulator had "repeatedly explained these legal requirements" to Google, which repeatedly claimed that its activities were in compliance with Russian law. Zharov (pictured) rubbished Google's claims, saying the presence of prohibited sites in Google's Russian search results was "irrefutable proof filtering is not carried out."
As such, Zharov said Roskomnadzor wouldn't hesitate to open a fresh administrative case against the tech firm if it continued to operate outside Russian law. A Reuters report in November claimed that Russian legislators were discussing dramatically increasing the financial penalties for such offenses in order to make them a sufficient deterrent.
According to the report, one proposal would penalize companies 1% of their annual revenue in Russia. Google's Russian revenue amounted to RUB45.2b ($640m) in 2017, making the potential fine a somewhat more punitive $6.4m.
YOUTUBE DELETING RUSSIAN RAPPERS WITH BOOKIE SPONSORS
Google isn't entirely deaf to Russia's concerns. Earlier this week, Russian media reported that Google's YouTube video platform had blocked multiple videos by two popular rappers, apparently due to the fact that the videos were sponsored by online bookmakers.
The bookmaker sponsors in question were identified as Fonbet and PariMatch. Both of these companies hold Russian online betting licenses, but they also operate international sites that offer other gambling products (casino, poker) not allowed under Russian law.
In May, Russian authorities began publicly complaining about YouTube permitting Russian-language videos featuring hip-hop stars extolling the virtues of certain online casinos. The Federal Anti-Monopoly Service promised to "request" that YouTube crack the whip.