Prague – 26 November 2018 – European Gaming Media and Events is proud to announce that NetEnt will once again support Prague Gaming Summit as the Main Stage Sponsor.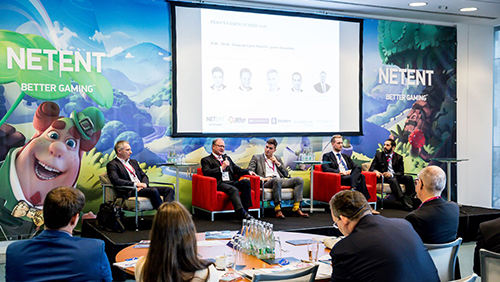 The conference will be held on the 12th of March at Vienna House Andel's Prague and promises to bring yet another high quality event for all delegates to enjoy.
NetEnt has been a supporter of Prague Gaming Summit from day 1
The support of NetEnt for the conference has been noted from the inaugural edition which was held  in 2017 and has been continuing ever since then.
The company is in tip-top shape, signing many new clients in 2018 and looking to extend their reign of the slots industry in 2019 as well. Just recently, they have announced the launch of Vikings Video Slot which features star characters, including Ragnar Lothbrok (Travis Fimmel) and Lagertha (Katheryn Winnick), along with immersive footage and imagery inspired by the historical drama.
As the industry has gotten used to the headlining slot game releases by NetEnt, we look forward to yet another packed year! Make sure to register for Prague Gaming Summit and meet the team at the conference! You can Register here or View the Agenda
Full details about the event can be found on the official event website: www.praguegamingsummit.com
About NetEnt
NetEnt is a leading digital entertainment company, providing premium gaming solutions to the world's most successful online casino operators. Since its inception in 1996, NetEnt has been a true pioneer in driving the market with thrilling games powered by a cutting-edge platform. NetEnt is committed to helping customers stay ahead of the competition, is listed on NASDAQ Stockholm (NET–B) and employs almost 1000 people in Stockholm, Malta, Kiev, Krakow, Gothenburg, Gibraltar and New Jersey.
Visit www.netent.com for more details.
About the organizer, European Gaming Media and Events
European Gaming Media and Events is a leading media and boutique event organizer company in Europe and produces the prominent conferences in the region such as:
• CEEGC (Central and Eastern European Gaming Conference)
• CEEG Awards (Central and Eastern European Gaming Awards)
• Prague Gaming Summit
• Mare Balticum Gaming Summit
• Baltic and Scandinavia Gaming Awards
• EGC (European Gaming Congress)
• VIGE (Vienna International Gaming Expo)
The live events/conference division is in charge of organizing boutique style executive gaming events that focus on bringing inside information from the top gaming experts in the European Union and beyond.
In short, they cover most areas of Europe with international events that serve the local and global industry, optimize networking opportunities and bring the hottest topics into scope.
The event destinations in 2019 will include a further expansion for the company in their quest to enter the Western European region and bring their expertise to produce local gaming events.
For more details about the calendar, agendas and locations, visit the Live Events/Conferences section on europeangaming.eu
Comments