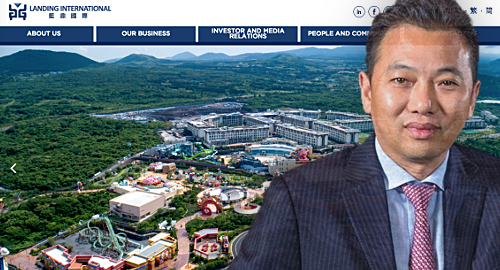 Asian casino operator Landing International Development says its prodigal chairman Yang Zhihui has returned following his unexplained disappearing act this August.
On Monday, Landing issued a statement to the Hong Kong Stock Exchange saying Yang "has resumed his duties as the chairman of the board and the executive director on 26 November 2018." Investors cheered Yang's return, pushing the stock price up nearly 9% on Monday.
Yang was reported missing in August after allegedly being detained at Cambodia's international airport, and the company's inability to explain his whereabouts led to a sharp sell-off in Landing's stock. The company now claims that Yang "explained that he has been assisting the relevant department of the People's Republic of China with its investigation during the period of his absence."
In October, Hong Kong regulators froze an estimated HK$1.3b in assets controlled by Yang, reportedly due to his links with Bai Tianhui, the former GM of the Hong Kong division of China's state-owned Huarong Asset Management Co Ltd, which is the subject of a major corruption probe.
Landing's Monday statement claimed that its operations "have been steady and normal" during Yang's mysterious absence, although the exec's vanishing act coincided with Philippine authorities scrapping the company's deal to develop a casino in Manila's Entertainment City gaming zone.
Yang's absence also triggered a collapse in business at Landing's largest gaming operation, the Jeju Shinhwa World property in South Korea. The casinos on Jeju Island rely on a steady stream of Chinese gamblers and Landing's casino reported "negative sales of KRW3b" (US$2.7m) in September as news of Yang's suspected incarceration spread.
Jeju Shinhwa's September plunge was reportedly due to its Chinese VIP customers cashing out all their chip holdings, suggesting that these high-rollers feared Yang could provide detailed information on his casino customers' history of moving money out of China.
It's unclear what effect Yang's return will have on Landing's ability to open a new hotel at the Shinhwa property. Earlier this month, the company announced that the local government was delaying the opening of the new accommodations until it could determine their environmental impact.