partypoker's parent company GVC Holdings upgrades their player fund protection status to 'Medium', and the Merciers promote the Online MILLIONS on Twitter prompting speculation that a sponsorship deal could be in the offing.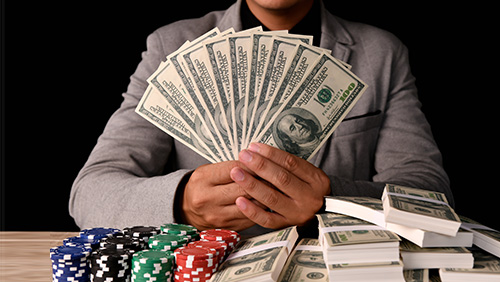 The players deciding to leave partypoker over fears the online poker room didn't care about their money after Pokerfuse uncovered a leak in their player fund protection terms and conditions are busy hurrying back up the escalator this morning.
You know how these things work.
A poker news outlet (in this case, Pokerfuse), releases a spot of news, the rest of us pick the bones like a hyena head deep in the belly of a beast, and that either means good news or bad news for the person or company adorning our morning headlines.
A few weeks back, Pokerfuse researched 25 UK-based online gambling companies to ascertain how many of them were taking care of poker players' money.
I mean, we don't want another Full Tilt or PKR do we?
The results were meh, apart from players who open up a bottle of port and chug away while playing online poker at partypoker. The UK Gambling head honchos have created a three-tier system of player funds protection – Basic, Medium and High, and partypoker was the only powerhouse rattling around in the Basic basement, a title that those same head honchos are preparing to rename No Protection.
GVC Holdings reacted quickly, dotting the I's and crossing the T's so they could increase player protection from Basic to Medium, telling Pokerfuse that they had upgraded their Terms and Conditions (TOC) to reflect the current company position with regards to player funds.

"I can confirm that player funds are held in segregated bank accounts and that we meet the criteria of "medium protection" under UKGC guidelines," a partypoker spokesman told Pokerfuse. "This means that if the company becomes insolvent, player funds are safe and will be returned to players."
A partypoker spokesperson also reached out to me via email to appraise me of the situation. When I asked why GVC had not gone the whole hog and joined PokerStars in the land of the full monty, the rep told me that the problem was a logistical one. Apparently, promising players the maximum protection would mean setting up a separate business unit, and that's too complex for a company like GVC.
Not that it matters.
The rep told me that the move to High status was unnecessary given the that both Medium and High tiers offer the same player protection in the case of insolvency.
The rep also wanted to point out that GVC commands a very strong credit rating, notably higher than some of its competitors, including The Stars Group.
Are The Merciers Joining partypoker?
Alex Foxen and Kristen Bicknell are on top of the Global Poker Index (GPI). Maria Ho and Rainer Kempe recently won three titles between them during WPTDeepStacks South Africa.
Are the Mercier's about to ride the back of this most recent wave of poker love and return to the tables?
Natasha and Jason took a timeout from poker to concentrate on parenthood, but a recent tweet from the couple has increased speculation that a Mercier or two could be joining the ranks of partypoker.
The tweet (shown below) sees the Mercier's promoting partypoker's $20m GTD Online MILLIONS, and I doubt you're going to do that unless (a) you're about to join the ambassadorial troops, or (b) they are paying for a lifetime supply of nappies and wet wipes.
HOW MANY DIAPERS DO YOU THINK I CHANGED THIS YEAR? (yes we kept track)

Must have a @partypoker acc to get paid! https://t.co/Piv4TVtJlX
Contest ends in 48 hours! pic.twitter.com/qDuBJ6zpKV

— Jason Mercier (@JasonMercier) October 21, 2018
If Mercier does join the team, he will be the fifth former PokerStars ambassador to do so behind Isaac Haxton, Bertrand "ElkY" Grospellier, Marcel Luske and Boris Becker.