A symphony of sounds from the world of live tournament poker including wins for Rainer Kempe and Steve Sung, the Asian Poker Tour moves to Japan, and the Bellagio release the structure sheets for the World Poker Tour Five Diamond World Poker Classic.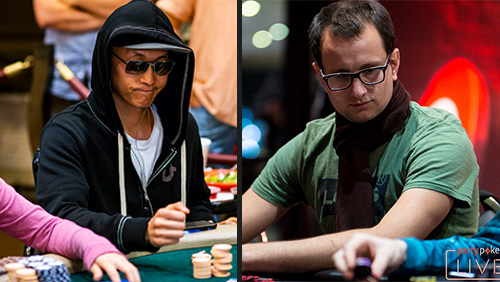 Sometimes, my reporting on such things is coma-like.
I spend way too much time sticking plastic toys in my magic cupboard hoping they will turn into Lilipution sized life-like things that I can rule over like Maggie Thatcher once did.
I think the antique dealer swizzed me.
One of the things I missed, was Rainer Kempe picking up two titles during the WPTDeepStacks (WPTDS) Festival in Johannesburg. Kempe was in safari town with his beautiful lady, Maria Ho. I covered Ho's victory in the WPTDS Main Event but didn't realise Kempe had also won two titles and a chunk of change.
The German High Roller swatted away 15-entrants to win the ZAR 200,000 (USD 14,000) No-Limit Hold'em Super High Roller for $81,270, and then battered 59-entrants to win the $28,358 first prize in a ZAR 20,000  (USD 1,400) No-Limit Hold'em event.
The wins were the fifth and sixth of a calendar year that has seen Kempe win $5.1m, making it arguably his best-ever year (he earned $6.6m in 2016, but $5m of that came in the Super High Roller Bowl).
Kempe's all-time live tournament earnings rise to $16.7m.
Here are those results:
Super High Roller ITM Results
1. Rainer Kempe – $81,270*
2. Greg Ronaldson – $81,270*
3. Darren Kramer – $38,733
*Indicates a deal
Big Roller ITM Results
1. Rainer Kempe – $28,358
2. Nic Ionnoy – $16,600
3. Devesh Debipersadh – $10,167
4. Vijay Nalajala – $7,262
5. Wesley Wiegand – $5,810
6. Rob Fenner – $4,440
Steve Sung Wins The Wynn Fall Classic 
Kempe wasn't the only well-known poker pro to win a title last week. Steve Sung took down the $1,600 No-Limit Hold'em Championship at the Wynn Fall Classic.
Sung earned $170,550 after topping a 594-entrant field, including beating a chipper Joseph Cheong, heads-up. Cheong seems to be playing smaller stakes these days, and it's working for him. The former November Niner has won $752,667 in 2018, his best haul since 2014, including 14 final tables and four wins.
For Sung, this was his first win since winning the $25,000 No-Limit Hold'em Six-Handed event at the 2013 World Series of Poker (WSOP) for $1.2m. Sung has won two WSOP bracelets and has accrued $5.5m in live tournament winnings.
The final table also included the WSOP bracelet winner, Ryan Laplante, and Chris Moorman's wife, Katie Lindsay.
Final Table Results
1. Steve Sung – $170,550
2. Joseph Cheong – $111,404
3. Karen Sarkisyan – $75,624
4. Ryan Yu – $53,082
5. Deijanosch Mahmoudian – $39,324
6. Tuan Mai – $30,509
7. Katie Lindsay – $24,286
8. Ryan Laplante – $20,137
Three other stars who went deep in this one who never listened to their father when he told them to ditch poker to join the garbage crew were the former November Niner Daniel Sindelar (16th), World Series of Poker bracelet and gold ring winner Ryan Leng (21st), and the WPT Champions Club incumbent, Jordan Cristos (34th).
The Best of the Rest 
The Bellagio Poker Room has released the structure sheet for the WPT Five Diamond World Poker Classic, and it initially caused a stir.
The original structure sheet for the $10,000 buy-in Main Event showed the action ten-handed, prompting numerous players to complain – not something the poker room wants with the PokerStars European Poker Tour (EPT) running in Prague around the same time.
Fortunately, Bellagio officials amended things.
The $10,000 Main Event will begin nine-handed.
Here is the link to the Google Drive containing all of those structures. 
Last year, Ryan Tosoc defeated 812 entrants, including the world number one Alex Foxen, heads-up, to take the $1,958,065 first prize in the WPT Five Diamond, a year after finishing runner-up in the same event, banking $1,124,051 for finishing runner-up to James Romero in a 791 entrant field.
Finally, the Asian Poker Tour (APT) is planning to host an event in Japan for the first time in the tour's history. APT Tokyo consists of eight games between Fri 1 Feb to Mon 11 Feb at the Casino Stadium Tokyo.
As with the recent WPT Japan, nobody wins a cash prize because gambling is illegal in the place with the second coolest flag in the world (Wales = Dragons = Cool). Instead, players will win seats into various events at the 2019 APT Philippines event.