Francois Tosques overcomes a final table featuring two PokerStars European Poker Tour Champions to take down the second-ever WPTDeepStacks Main Event in Marrakech, Morocco.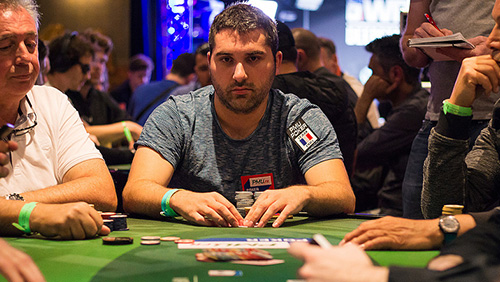 Deep in the Souk, and an old man fights off the blazing heat by wearing a cardboard box. He sits in front of the most dazzling array of spices, fruits and nuts.
The perfect picture.
I take my mobile out of my pocket and kneel down pointing the camera at him.
He removes the box and refuses to put it back on unless I give him money.
I walk on.
A man playing with snakes thrusts one into my hand. My wife takes a photo before it injects me with venom and eats me alive. The snake charmer asks me for money.
I walk on.
I am leaving the souk. No more goats skulls. A man walks beside me with a monkey in his arms. Not one of those cute monkeys you see in Indiana Jones movies. A gorilla.
He throws it on my head.
It dances up and down.
Screaming.
Pulls at my hair.
I finally, get King Kong to stop looking for dandruff, and the guy asks me for money.
I limp on.
Ladies & gentlemen, welcome to Marrakech.
It's a bizarre bazaar, but the Es Saadi Marrakech Resort is one of the most beautiful places I have ever had the fortune to call home for a few weeks during my time in the poker bubble, and the WPTDeepStacks seems to concur.
In October 2017, the WPTDeepStacks team held an event at the Casino de Marrakech (right next door to the Es Saadi Resort) for the first time, and the Frenchman, Mamouni Smain defeated 433 entrants in the MAD 13,200 (€1,200) buy-in WPTDeepStacks Marrakech Main Event, sending MAD 1,000,000 (€91,414) whizzing down the Internet cables towards his bank account.
Last week, the team returned, and the result was the third-highest field size in WPTDeepStacks European tour history with Francois Tosques conquering 431 entrants to win the MAD 1,000,000 (€ 91,411) first prize.
"I never expected to win this, this is very crazy," Tosques told reporters before making the understatement of the century. "I finished second in a big tournament two and a half months ago, when I was in heads-up."
The big tournament he referred to was the World Series of Poker (WSOP) Little One for One Drop where Tosques battled through close to five thousand souls to finish second for $345,415, his most significant score to date.
To win his third career tournament, Tosques had to find a way past two former PokerStars European Poker Tour (EPT) Champions in Kalidou Sow, and Jean Montury.
Here are the final table results.
Final Table Results
1. Francois Tosques – MAD 1,000,000 (€ 91,411)
2. Jaouad Abida – MAD 700,000 (€63,988)
3. Fabio Pinho Damaso – MAD 440,000 (€40,221)
4. Ramon Sol – MAD 315,000 (€28,795)
5. Kalidou Sow – MAD 240,000 (€21,939)
6. Mathieu Papineau – MAD 195,000 (€17,825)
7. Jean Montury – MAD 156,000 (€14,260)
8. Sebastien Boyard – MAD 130,000 (€11,883)
9. David Pecheur – MAD 108,100 (€9,882)
The WPT Champions Club member, Guillaume Darcourt bubbled the event, Tobias Peters, who won a side event, finished eleventh, WPTDeepStacks Portugal winner Jimmy Livramento finished 21st, and the former Reading footballer, Jimmy Kebe finished 54th.
The win may be a good omen for Tosques.
Last year's winner, Smain, went on to win a World Series of Poker Circuit (WSOPC) gold ring in the same venue for €30,973. He also finished 4/462 in a €2k event at the PokerStars European Poker Tour (EPT) in Monte Carlo for €62,000 and placed 411/7874 in the WSOP Main Event for $33,305.
As ever, the action at the WPT never ends with WPTDeepStacks Houston, and WPT Vietnam both running as I contemplate how to fill my empty stomach.
Comments