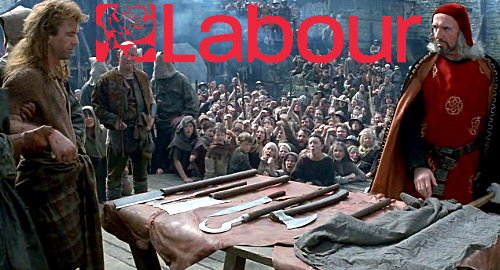 The UK Labour Party has promised live weekly broadcasts of gambling CEOs being eviscerated with extremely dull blades if voters will return the currently directionless party back to power at the next general election.
Well, not really. But in preparation for this weekend's annual conference in Liverpool, Labour deputy leader Tom Watson has unveiled a raft of crowd-pleasing, pitchfork-and-torch-ready proposals aimed at cutting the gambling industry off at the knees.
Watson called problem gambling "a public health emergency," evidently having skipped reading this month's Gambling Behavior in Great Britain survey, which found problem gambling rates unchanged from the previous survey, while gambling participation actually declined.
Still, Tom, you were saying? "Current gambling regulation [introduced under a previous Labour government, just so we're clear] is not up to the job of protecting addicts" but never fear, Labour has a plan, and this time, it's actually going to work.
For one thing, Labour would impose a "whistle to whistle" ban on gambling adverts during sports events to curb the "negative effect the explosion in gambling advertising has had." This, despite the UK government opting not to impose new ad curbs last October due to studies indicating "the prevalence of advertising did not appear to be linked with the prevalence of problem gambling."
Many of Labour's proposals echo those made at the previous year's conference, including a ban on gambling sponsorships and a mandatory 1% levy on gambling operators' gross revenue to fund problem gambling programs, or, as Watson put it, to ensure gambling operators "take responsibility for harm caused."
However, Labour has added a few new wrinkles to this year's platform, including allowing gamblers to instruct their banks to block transactions with gambling companies, while the use of credit cards for gambling purposes would be banned outright, regardless of one's financial status or relationship to gambling products.
The BBC quoted Sky Betting & Gaming CEO Richard Flint saying he supported the concept of an industry levy, but noted that the right to advertise gambling products in the UK was one of the key selling points of the new licensing regime the UK government imposed just a few years ago.
Flint also suggested that a blanket ban on credit card payments wouldn't fly and suggested a more targeted approach, based on SB&G's own data that suggested it was "customers with multiple cards that are at greater risk of harm," and so that's where attention should be paid.
Comments