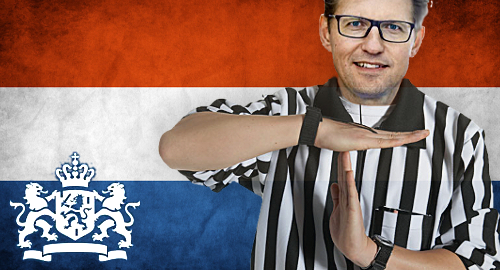 Online gambling operators that have been sanctioned by Dutch gaming regulators will have to serve an unspecified 'time out' before being allowed to apply for licenses under the new regulated market.
On Thursday, the Netherlands Minister for Justice and Security Sander Dekker said that internationally licensed online gambling operators that have been penalized by the Kansspelautoriteit (KSA) regulatory body would be ineligible to operate in the country's liberalized market, at least, not at the start of the new regime.
In July, Dekker (pictured) pushed back against the KSA's wish to permanently exclude sanctioned operators from acquiring new Dutch licenses, saying that denying Dutch punters the right to access sites with a "reliable reputation" would negatively impact the government's desire to 'channel' gamblers to locally licensed operators.
However, speaking at a Thursday meeting of the Permanent Committee for Justice and Security, Dekker said that, while a permanent ban would be "legally disproportionate" to sanctioned operators' alleged crimes, the KSA should nonetheless develop a policy that excludes sanctioned operators from the regulated market for a yet-to-be-determined period.
The KSA has never been shy about imposing six-figure financial penalties on what it deems to be online rogues serving Dutch punters without KSA approval. The past few months have seen additional fines levied against the Dutch-facing divisions of Bet-at-home, Betsson AB and MRG. Both Betsson and MRG are appealing their penalties.
The Dutch government is currently conducting an open consultation on its Remote Gambling Bill, with interested parties invited to submit their thoughts, critiques and desires by November 6. The Christian Democratic Appeal party, which had previously expressed opposition to liberalizing online gambling, has reportedly softened its tone after the Bill was tweaked to include new consumer protection measures, which will hopefully ensure swift passage whenever the Dutch senate gets around to a floor vote.