Two new poker alliances to bring you up to speed on as Kenny Hallaert joins No Limit Gaming and Matt Staples joins Team RunItUp. 
Tension.
I Love it.
Something big is coming… pic.twitter.com/PYC9CUyhCv

— No Limit Gaming (@no_limit_gg) September 3, 2018
It seems we have to wait until tomorrow to learn what No-Limit Gaming (NLG) has up its sleeve (I will hazard a guess that it has something to do with the world's sickest high rollers streaming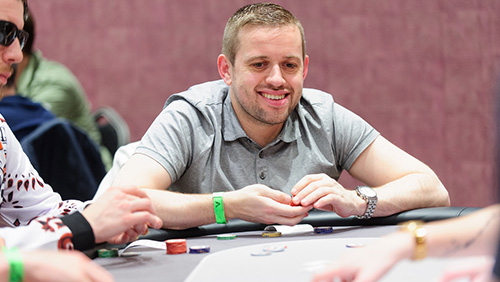 live World Championship of Online Poker (WCOOP) action on Twitch), but until then know this.
Belgium's Kenny Hallaert is the latest player to join Team NLG. The news came via NLG's official Twitter channel.
NLG is the brainchild of Stefan Schillhabel. The German High Stakes pro intends to use everything he's learned to make it to the top of the poker world, and implement it into the world of esports, but not before he creates the strongest poker streaming team in the world.
And he's not made a bad start when it comes to creating the right cast.
German NLG Team Members
Fedor Holz
Steffen Sontheimer
Rainer Kempe
Manig Loeser
Christopher Frank
Stefan Schillabel
Julian Thomas
The Rest of the World
Thomas Mühlöcker
Josip Simunic
Jessica Teusl
Felix Bleiker
Stefan Huber
Ana Marquez
Niall Farrell
Kenney Hallaert
Hallaert has earned more than $4m in live tournament earnings, and $4.7m playing online as SpaceyFCB. Hallaert has been on the circuit forever but began putting together a serious string of results after finishing 5/22374 in the inaugural Colossus at the World Series of Poker (WSOP) earning $182,348.
The following year, Hallaert made another deep run at the WSOP, this time finishing sixth in the Main Event for a lifetime best score of $1.6m. And then Hallaert began playing higher, culminating in a tenth place finish in the 2017 €111,111 No-Limit Hold'em One Drop High Roller at the World Series of Poker Europe (WSOPE) for €295,131.
What did Hallaert do next?
He agreed to become the Tournament Director for Unibet, of course.
Hallaert is also a big supporter of the Effective Altruism movement Raising for Effective Giving (REG).
We're excited to announce yet another new member of the @no_limit_gg #pokerteam! Please join us in welcoming former WSOP November Niner & tournament director extraordinaire Kenny @SpaceyFCB Hallaert to the team! 🎉 🚀

📷: Jayne Furman pic.twitter.com/cRFXCoJirS

— No Limit Gaming (@no_limit_gg) August 21, 2018
Until tomorrow.
Matt Staples Joins Team RunItUp
While NLG may have some of the best players in the world preparing their microphones for a Twitch stream or ten, Jason Somerville's RunItUp Twitch team are without a doubt the most experienced.
In June, Somerville's RunItUp joined forces with PokerStars to develop new and existing Twitch poker broadcasters, and Team RunItUp came into being.
PokerStars Team Pros Lex Veldhuis, Jaime Staples, Kevin Martin, Jeff Gross, Benjamin Spragg and Fintan Hand made up the core of the team until Somerville hired Arlie Shaban at the beginning of August, and now RunItUp has a second non-PokerStars member of the team.
Matt Staples has joined the crew.
We are thrilled to announce @MattStaplesPKR has joined us as a Team RIU Ambassador! Please welcome Matt to the team and watch his channel at https://t.co/MwlvQk1gMk – more info found at https://t.co/7Guixbzs5Z pic.twitter.com/VgYC4ry5JR

— Run It Up (@runitup) August 31, 2018
Staples got into poker as the personal assistant for his brother Jaime, before he began streaming himself. Staples' stream was unique because he was learning the ropes at the microstakes while streaming, unlike most poker Twitch streamers who develop an interest in Twitch a while after becoming a great poker player first.
Staples made media headlines recently when he and his brother agreed upon a $150,000 prop bet with Bill Perkins that the pair would weigh the same 12-months after being 171lbs apart. The Staples brothers won the bet, and are currently involved in a double or nothing with Perkins where the pair have to get down to 9.9% body fat in 12-months.
Earlier this week, RunItUp creator, Somerville, surprised his fans by returning to his live stream pitch after a prolonged absence from the scene.
Speaking of Run It Up, Somerville said, "Our mission at Run It Up is to create and promote the most entertaining and engaging poker content on the planet. We strive to innovate within poker and to challenge accepted practices both in broadcasts and the game itself. We are eager to grow the game of poker by reaching more fans, more regularly, and with superior poker programming."
The RunItUp team will be out in force for the Run It Up Reno VII October 19-29 at the Peppermill Reno.