Poker players from all over the world have come together to raise close to $700,000 for charities hell-bent on reducing suffering in the world, now, and in the future. 
In a few hours time, I will hop on a bird, destined for San Francisco to spend three days at the Effective Altruism Global Summit.
For me, the concept of 'service' came into my life when I quit alcohol, but it wasn't until Philip Gruissem's touching story of turning poker into a way to reduce suffering, that I began to sit up and philosophise about how I could make a difference.
Like so many in the poker industry, I joined Raising For Effective Giving (REG) as my charity hobby horse of choice. It continues to be a fun ride as I learn so many things about humanity; the way it ticks, and the vast difference in the way Homo Sapiens live on this earth.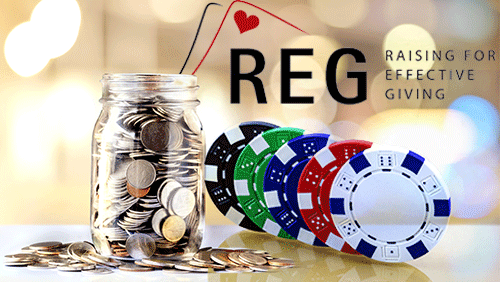 And there is panic.
Anyone with children feels this.
And so to the summit I go, hoping to return, with a greater sense of purpose, and desire to do more good, inspired by communities like REG.
So how are REG doing?
The non-profit released their H1-2017 financial report this week. You can find a copy in its entirety, right here.
Here are the highlights:
For the first six months of 2017, REG members raised $686,095.58 to help reduce suffering in the world.
The people chose to disseminate the money as follows:
$274,806.68 – Schistosomiasis Control Initiative
$147,118.86 – Against Malaria Foundation
$89,320.11 – Machine Intelligence Research Institute
$54,688 – The Future of Humanity Institute
$44,274.42 – The Humane Slaughter Association
$41,624.42 – Foundational Research Institute
Donators can choose REG to be the bastions of your purse strings, and 10.4% of donators chose this option ($71,144,67). REG allocated those funds as follows:
$41,520 – Humane Slaughter Association
$29,624 – Machine Intelligence Research Institute
Donors also gave $113,219.90 to the Effective Altruism Foundation. To avoid a conflict of interest, REG doesn't allocate funds to the EAF, nor do they add this figure to their overall money raised.
REG is predicting an increase in 2017 operating costs as they bring in more staff to deal with growth. The forecast is in the region of $200,000, and in the first half of the year, they received $45,687.59.
REG's recommended charity list remains unchanged after an H1 review.
H1 Highlights
From a branding perspective, the highlight of the year had to be Liv Boeree & Igor Kurganov's victory in the World Series of Poker (WSOP) $10,000 Tag Team Event. The Posh & Becks of poker both sit on the REG board, when they are not smashing it up at the tables, and donated $124,560, half of their purse, towards effective charities.
REG also grew their alliances with the two largest online poker rooms in the first half of 2017, no mean feat, especially when you consider, PokerStars has a charitable sector: Helping Hands.
Nevertheless, PokerStars agreed to donate the reg fees from the Spring Championship of Online Poker (SCOOP) $25,000 High Roller to effective charities. The amount totalled $59,375, and PokerStars matched the first $50,000 raising a total of $109,375.
888Poker also stepped up to the plate by donating reg fees from three XL Inferno events. The online poker room raised $50,400 for effective charities.
The Future? 
The second half of the year has begun brightly.
The world got to see REG patches on the bodies of two WSOP Main Event Final Table combatants in August. Jack Sinclair finished eighth for $1.2m, and Ben Pollak came third for $3.5m.
For my 1st participation , I'm more than happy to raise 105k$ to @REGcharity ❤️

— Pollak Benjamin (@PollakB) July 23, 2017
And the Belgian Kenny Hallaert received plenty of press during an excellent WSOP run that saw him pull in over $400k in earnings, followed up with an online triple crown. Hallaert is a REG supporter.
My thoughts?
Together the One Drop and WSOP have raised close to $20m in charitable funding. To move into the big boy league, REG needs an alliance of that nature. I would like to see them continue to grow relationships with online and live tournament operators. The more visible REG is in these environments, the more questions people ask about the REG patch, and who knows, one day more people will be heading to San Francisco hoping to learn more about reducing suffering in the world.
Comments