About two years ago, poker pro extended a challenge. He said that he could take $100 on WSOP.com and turn it into $10,000. Given his substantial success at the felt at the time—he had won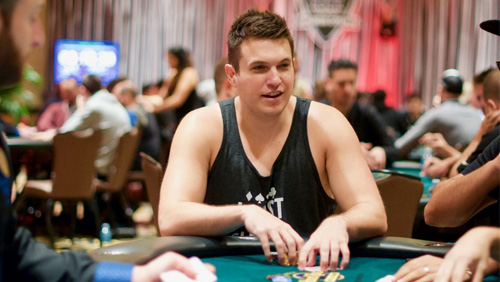 over $5 million at the time and had two WSOP bracelets—it certainly seemed like a plausible challenge. However, here we are two years later and the founder of Upswing Poker is still trying to reach his goal.
As of last Friday, Polk has racked up just a little more than $1,600. He spends the majority of his time playing low-stakes tournaments and other similar-staked cash games because of what he refers to as "a matter of good bankroll management." He has repeatedly said that he would stick to the challenge until the end—I guess an open-ended challenge is still fulfilled even if it takes 15 years.
According to his WSOP stats, Polk has played in over 40 sessions recently without improving his position. On Sunday, August 5, he participated in a $320 buy-in rebuy tournament and was pushed out well ahead of reaching the money. He "clicked the wrong button" and re-bought into the tournament for another $320, but it didn't seem to help any. On the day, he was out $640 with nothing to show for it (except perhaps the knowledge of where the rebuy button is located). His second rebuy ended up costing him 20% of his remaining bankroll.
By last Wednesday, he managed to improve slightly, reporting a recent high of $1,716 for his $10,000 challenge. It was short-lived, however, and he slipped on Friday, losing $110.
No one can argue the fact that playing in low-stakes games is much different than being among the crowd that's used to dropping five and six figures just to play a few hands. However, there are pluses. Low-stakes games have a lower amount of stress associated with them—great for the blood pressure. On the other hand, they also typically have a field of players who are, let's say, not as aptly skilled as those in higher-stakes games. This should make it easy for Polk.
The man who wants to be a crypto blogger, a mainstream news blogger and who loves to pick fights with other high-stakes players will more than likely find a way, someday, to be able to blog about his success at beating the challenge and say "I told you so." However, at the rate he's going, it's going to take at least a few more years.