Day 1 of the World Series of Poker sees the lowest Casino Employee turnout since 2004, and Doug Polk looks to win back-to-back Tag Team events after leading Team Polk to the summit of Day 1.

It's that time of year again.
The World Series of Poker (WSOP) is back for the 48th time of asking, and I am 5,117 miles away suffering from a severe case of FOMO.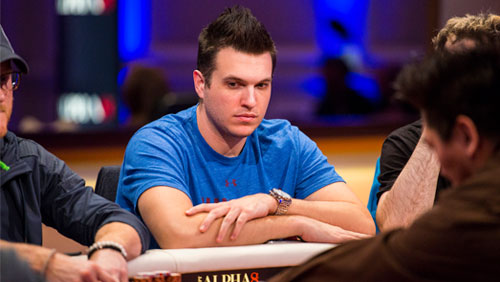 For poker players, the WSOP is like Woodstock for hippies, an aphrodisiac of the highest order. Poker tables lift off the ground because of the sheer excitement. And so it is our duty to bring you as many updates as we can beginning with Event #1: $565 Casino Employees No-Limit Hold'em.
The event attracted 651 entrants, and that's a big dip in numbers, especially when you consider players had the option to re-enter before the registration period ended. In fact, you have to go back to 2004 to find a smaller field (279). Let's assume the casino industry decided on a cull in the past few years.
Attendances
2004 – 279
2005 – 662
2006 – 1232
2007 – 1039
2008 – 930
2009 – 866
2010 – 721
2011 – 850
2012 – 732
2013 – 898
2014 – 876
2015 – 688
2016 – 731
There is $323,500 in the prize pool and $68,817 up top.
11 players survived Day 1 and here are the chip counts going into the second day of action.
Chip Counts
1. Chris Gellagher – 519,000
2. Chris Solomon – 513,000
3. Jermel Stephens – 418,000
4. Alex Cordova – 348,000
5. Victor Kim – 323,000
6. Bryan Hollis – 290,000
7. Adem Arbuckle – 243,000
8. Vincent Russell – 216,000
9. Josh Clanton – 172,000
10. Haviv Bahar – 145,000
11. Nathan Bolinger – 77,000
Ten of the final eleven players hail from the US with Vincent Russell, the only person in danger of having a wall built in front of him. Russell comes from England and is hoping to be the second person from that part of the world to make the final table in the past two years. Londoner Kerryjane Craigie finished runner-up in 2016.
As you would expect in the Casino Employee event, there isn't much live tournament experience in the final 11. The exceptions being Chris Solomon who made the final table of a $1,500 bracelet event in 2006 finishing sixth. And Joshua Clanton, who in 2015 came close to winning a World Series of Poker Circuit (WSOPC) gold ring when he came second in a Pot Limit Omaha (PLO) event in Baltimore.
Notables who competed in the event were last year's November Niner Kenny Hallaert (Unibet TD), commentator David Tuchman, Erica Lindgren and 2013 WSOP bracelet winner Dana Castenada.
The Bigger Buy-In; The Same Result

The first open WSOP bracelet event of the series was a new one. Last year we saw the return of team poker with the introduction of a $1,000 buy-in No-Limit Hold'em Tag Team event, and the WSOP deemed the 863 entry mark serious enough to host a $10,000 Championship event.
The event attracted 102 teams and last year's $1k winners Doug Polk and Ryan Fee are on course for the back-to-back after ending Day 1 with the chip lead. The rules allow teams of 2-4 players and the tandem of Polk and Fee is now a quartet with Jason Mo and Michael Finstein joining the crew.
The event attracted our first non-poker celebrity of the WSOP after the most decorated Olympian of all time, Michael Phelps, joining Jeff Gross, Antonio Esfandiari, and Brian Rast. Unfortunately, the team failed to make it to Day 2.
Team Polk finished with 240,600 chips. Other teams at the top of the chip counts include Team Staats (Christopher Staats, Orlando Romero, and Roland Israelashvili) with 216,400. Team JC Tran (JC Tran, Nam Le, and Antonio Gutierrez) with 207,000, and Team Chidwick (Stephen Chidwick and Dan Smith) with 204,500.
51 teams remain in contention for the $273,964 first prize.
Comments