Shares in casino giant Wynn Resorts fell as much as 9.7% in trading on Wednesday after the company reported significant revenue and profit declines from its Wynn Macau casino. Wynn Macau is reportedly the company's largest market and sales rose 9% during the second quarter of the year. However, the final bell saw the company bring in just $1.61 billion, short of the $1.67 billion expected by analysts. Shares that were projected to earn $1.92 each, only produced earnings of $1.53 each.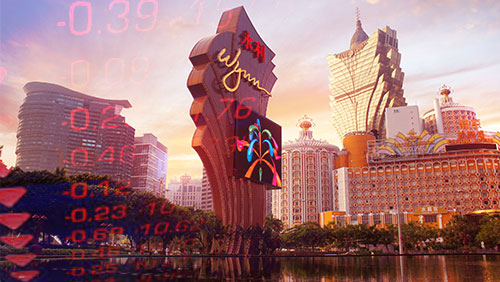 According to Wynn Resort's filing, revenue for Wynn Macau fell 15% due mainly to a decrease in high-roller bets. Sales at the company's second Macau casino on the Cotai Strip increased 57%, raising concerns that the new operation could be stealing customers from the flagship Macau casino. Wynn Resorts also saw revenue decline at its Las Vegas operations, dropping 6.1%.
Wynn CEO Matt Maddox said during a shareholders call, "Wynn Macau had a tough VIP environment on lower volumes from several junket operators as several competitors got back into the game with new rooms and more credit. Wynn Macau won't compete on price."
The declines caused shares of Wynn Resorts to retreat. They were down 8.5% to $146.35 in late-day trading—a slight improvement over the $144.55 seen earlier in the day. For 2018, stock prices are down a total of 5.1%.
There was a little bit of good news for Wynn Resorts, however. The company's net income increased for the second quarter, reaching $155.8 million. This was a substantial gain over the same period in 2017 when it only took in $74.9 million.
Casino operators with a Macau presence all took a hit this week on U.S. exchanges, spurred by the announcement that betting revenue in July had grown less than anticipated. They were further driven down by the announcement from Caesars Entertainment that its room revenue for the current quarter will be less than previously estimated due to competition from rivals and a reduction in events being held in Las Vegas. The company said that it expects "little or no growth in hotel revenue" for the quarter.
Comments