The HKD 1,000,000 (USD 127,000) Short-Deck, Ante-Only event at the Triton Poker Series in Jeju entered an unscheduled third day of action with Kenneth Kee, Cary Katz and Richard Yong all searching for that USD 2.8m win.
I was listening to Tom Dwan give a rare interview to PokerNews during a break in the HKD 1,000,000 (USD 127,000) buy-in Short-Deck Ante-Only event.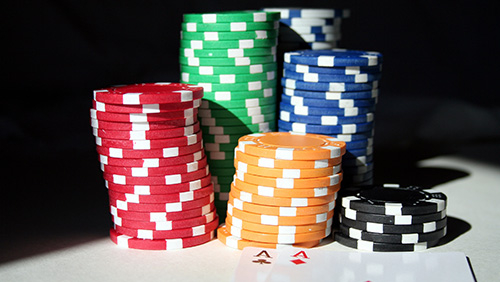 The host asked him why he only appeared at Triton events?
"They take the 2,3,4 and 5 out of the deck," said Dwan referring to the Short Deck format.
Dwan proceeded to tell the poker community that Short-Deck makes the game fun again. Long staredowns are as welcome as vultures and hyenas around your mother's deathbed.
But it's more than fun.
If you're a professional poker player, and you're thigh deep in a USD 127,000 buy-in event, with USD 2.8m+ for the winner, you're not interested in having fun.
You want to win.
What Dwan failed to point out is the game is fun because the removal of the bottom half of the deck reduces the edge between the pro and the hobbyist. There is more gambling. It creates the illusion for the hobbyist that they can win, while at the same time, in the long run, the pro ends up in the black.
And the HKD 1,000,000 (USD 127,000) Short-Deck Ante-Only is a classic case in point.
At the end of two gale-driven days of action, the Daddy of the Short-Deck, Ante-Only events at the Triton Poker Series in Jeju, attracted 60-entrants, creating a first prize of HKD 22,500,000 (USD 2,867,000).
Here are the high and low lights:
Level 7 (A=5k) – Yu, Katz, Tang, Ivey and Sass Hit The Rail
The first person with a 'should I re-enter?' decision was Winfred Yu after Ivan Leow cracked his pocket kings with pocket jacks. The hand left Yu with 61,000, and Koon swiped them with JTcc>A9hh in the very next hand.
Cary Katz was playing Short-Deck, Ante-Only for the first time, and the PokerGo founder realised how expensive it would be when he scurried to the cash desk after losing AK<KK of Gabe Patgorski. Devan Tang was next to wilt when his pocket queens suffered a brutal beating from the pocket aces of Mikita Badziakouski.
Phil Ivey has had a tough few days, getting it in with the best of it, and leaving with nothing but dust. Today, was no different. Ivey had to rebuy for the third time after correctly calling on fourth street when Wai Kin Yong put him all-in, only for Yong to catch a one-outer on the river to leave the Virtue Poker Ambassador a little winded.
Ivey recovered well.
Within minutes of re-entering, he doubled through Chan Wai Leong AA>K9o after the pair got it in on a King high flop.
Next to go was Alan Sass; Badziaouski getting value from a flopped straight to send Sass packing, and give the Belarusian the chip lead.
Level 8 (A=6k) – Kenney, Qiang and Rajkumar Bust 
Patgorski eliminated Qiang KQcc>JJ all-in, pre-flop. Ivey won the battle of the Westerners when his J9s pipped the 88 of Bryn Kenney to the post, and Paul Phua went through the gears doubling through Andrew Robl KK>AQ.
Vivek Rajkumar left the competition after making a move on Tom Dwan in a pot that seemed to be going nowhere. Rajkumar jamming on AdKsQdAh9s with two pairs and Dwan looked him up with trip aces.
Level 9 (A=8k) – Patgorski and Lamb Slaughtered 
The name of Kenneth Kee first came to prominence in this one after he eliminated Patgorski. Kee's pocket queens stealing a march on Patgorski's KTo. And Xuan Tan did a number on Ben Lamb rivering a boat to leave Lamb splashing around without a life vest.
Level 10 (A=10k) – Yong Junior and Ivey Gone For Good 
We lost two former Triton Champions in Level 10.
The first to go was Wai Kin Yong, and it was Tom Dwan holding the machete. The pair went for it on QcTs7cAc with Dwan holding KJo for the straight, and Yong holding A7o for two pairs. The river card was friendlier to Dwan, and baby Yong was out.
And then we lost the legend.
Ivey used four-time extension chips before calling an all-in from Badziakouski on Ac8d7dKc. It was a great call. Ivey held AhTs for top pair, and the Belarusian showed down Tc9s for the semi-bluff. But you don't get anything in this game for predicting the best hand on the turn, especially in Short-Deck. The Jc hit the river, and the tsunami that followed carried Ivey all the way back to his hotel room.
Level 11 (A=12k) – Tan Out Man; Kee, a Serious Contender 
The level of the double ups.
Phua doubled through Robl AQ>KJ and Badziakouski KK>TT.
Katz doubled through Romain Arnaud in a boat over boat ice-cold cooler.
Robl doubled through Leow JTo>AK.
Kee doubled through Dwan to take the chip lead AK>JJ.
Katz began amassing come chips after eliminating Xuan Tan. The pair got it in on JsTd8s with Katz holding the middle pair and the open-ended straight draw, and Tan holding the more dominant draw. The Qh on the river gave Katz his straight.
Level 12 (A=15k) – Katz Leads The Final Table 
Kee eliminated Arnaud when his KK put JTo in its place.
The Frenchman's exit created a final table of nine, and Dwan was the first to leave the arena when he went searching for a boat on fourth street against Katz's straight, and they all stayed in the harbour.
Then we had our final table when Phua moved all-in for 575,000 holding KJo, and Badziakouski called and won holding AQo.
Final Table Chip Counts
1. Cary Katz – 4,940,000
2. Mikita Badziakouski – 3,820,000
3. Richard Yong – 3,380,000
4. Kenneth Kee – 2,230,000
5. Andrew Robl – 1,535,000
6. Peter Jetten – 1,430,000
7. Ivan Leow – 665,000
ITM Payouts
1. HKD 22,500,000 (USD 2,867,426)
2. HKD 13,920,000 (USD 1,773,981)
3. HKD 9,120,000 (USD 1,162,264)
4. HKD 6,300,000 (USD 802,879)
5. HKD 4,620,000 (USD 588,778)
6. HKD 3,540,000 (USD 451,141)
Level 13 (A=20k) – Robl Bubbles; Yong Takes The Chip Lead 
Only one person was going to leave with an empty yoghurt pot, and Andrew Robl was that unlucky sap.
Ivan Leow called the ante holding KTo, Robl moved all-in with ATdd, Richard Yong did likewise with AQss, Leow ran to the hills and a flop, turn and river later, Robl was out.
Yong was our new chip leader.
Level 14 (A=25k) – Kee Leads The Final Three 
Kee doubled through Badziakouski KK>AJdd.
Jetten doubled through Yong KQss>JThh.
And Kee eliminated Leow ATcc>KQss when Kee hit a straight on the river after Leow hit top pair on the turn.
Then the fans had a delight when Kee turned up aces, Badziakouski found kings, and Jetten found queens and a pre-flop shove. The perfect maelstrom. Both Badziakouski and Kee called, and the best hand held up giving Kee the chip lead and sending Jetten and Badziakouski out in fourth and fifth respectively.
Kee – 7,140,000
Katz – 5,615,000
Yong – 5,245,000
Kee, Katz and Yong aren't as ready to put their money into the middle as some. It was always going to be a cagey affair, and so it proved, with the three of them agreeing to call it a day after a three-hour slugfest, and return for an unscheduled third day of action at 4 pm (local time) where they will play down to a winner.
Three hobbyists.
USD 2.8m for the winner.
It sure beats trainspotting.
Final Chip Counts
Kee – 8,245,000
Yong – 6,815,000
Katz – 2,940,000