Lee Davy brings you up to speed on the weekend's frolics and frivolities at the Triton Poker Series in Jeju, South Korea, including two million dollar victories for Ivan Leow and David Peters.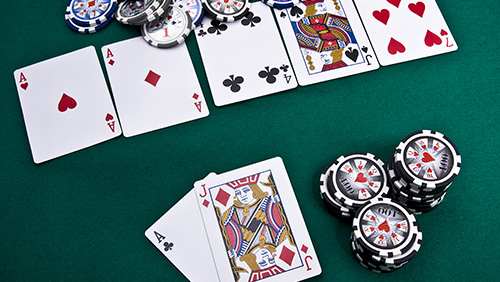 While you were busy mowing the lawn, taking the kids to the beach, or whatever else floated your boat this weekend, a cache of crazies with too much skill, money or a bit of both decided to spend it playing poker.
Jeju was the spot for the second Triton Poker Series event of 2018, and we have two tournaments to bring you up to speed on, beginning with a victory for Ivan Leow in the HKD 500,000 (USD 64,000) Short-Deck Ante-Only event.
Day 1 pulled in 44 entrants.
Nine made the final day with Leow in charge.
Four of the nine would leave the table with nothing but an empty Starbucks cup including Chan Wei Leong who lost with K8hh against Gabe Patgorski's AQo, and Mikita Badziakouski after Patgorski tripled up in a three-way hand that saw the Belarusian's aces cracked by the QJhh of the American, with Dwan, the other person to bleed in that hand.
Alan Sass exited in seventh place when his T9o failed to find the right combination of cards needed to beat the AK of Jason Koon, and Patgorski wouldn't add to his two Montenegro scores, becoming the bubble boy when his KJo burned alive under the boosters of Leow's rockets.
Tom Dwan's run ended in fifth for HKD 1,980,000 (USD 252,371) when his KJo failed to beat the gorgeous looking T9s of Leow after the chip leader straightened up. Devan Tang hit the rail in fourth place earning HKD 2,640,000 (USD 336,494) after suffering a beat at the hands of Koon AK<AJs, with Koon turning the second jack.
Those chips did little to turn Koon into a two-time Triton Champ, as he was out in third for HKD 3,360,000 (USD 462,680) in a set over set cooler against the leading man, Leow.
Koon's chips gave Leow a strong looking 11.8m v 1.4m chip lead over Rui Cao at the start of heads-up. The Frenchman, who is a cash game player, finished second in the HKD 1,000,000 buy-in No-Limit Hold'em Main Event in Montenegro, and he once again had to settle for the same spot on the ladder.
The exit was a brutal one.
Cao flopped a straight on KdQdTc, holding Jd9h, and Leow holding AQcc, only for runner-runner clubs to knock Cao senseless and hand Leow the wire-to-wire victory. 
ITM Finishes
1. Ivan Leow – HKD 8,470,000 (USD 1,079,586)
2. Rui Cao – HKD 5,280,000 (USD 672,989)
3. Jason Koon – HKD 3,630,000 (USD 462,680)
4. Devan Tang – HKD 2,640,000 (USD 336,494)
5. Tom Dwan – HKD 1,980,000 (USD 252,371)
David Peters Wins the HKD 500,000 (USD 64,000) No-Limit Hold'em Six-Handed 
The first 'normal' tournament in Jeju went the way of David Peters. The former Global Poker Index (GPI) Player of the Year, defeated a field of 39 entrants to bank the HKD 8,775,500 (USD 1,118,484) first prize, his fourth million dollar plus cash.
Sam Greenwood led the way at the end of Day 1 but would fall in Level 13 on Day 2 when his pocket threes didn't handle the pocket nines of Steve O'Dwyer very well.
O'Dwyer was the total boss of Day 2 eliminating a raft of players before three-handed play came down between three of the world's best in O'Dwyer, Stephen Chidwick and Peters.
O'Dwyer eliminated Chidwick 44>A3o to take a 2:1 chip lead into heads-up, but Peters grabbed the lead when extracting value from O'Dwyer in a flush v flush hand, and then locked up his 20th career title rivering a straight at the same time O'Dwyer stuck it all-in on a bluff.  
ITM Finishes
1. David Peters – HKD 8,775,500 (USD 1,118,484)
2. Steve O'Dwyer – HKD 5,850,000 (USD 745,656)
3. Stephen Chidwick – HKD 2,925,000 (USD 372,828)
4. Chow Hing Yaung – HKD 1,950,000 (USD 248,552)