Another round-up of the action from Day 1B of the HKD 100,000 buy-in Short-Deck Ante-Only warm-up event, with 12 players joining the four from Day 1A, and Wai Kin Yong leading the way. 
I grab my things and sneak out of the room like Santa Claus after eating his 1.2 billionth mince pie. I forget about the automatic light trap by the bathroom. I freeze like a Parisian mime artist, bathed in artificial light.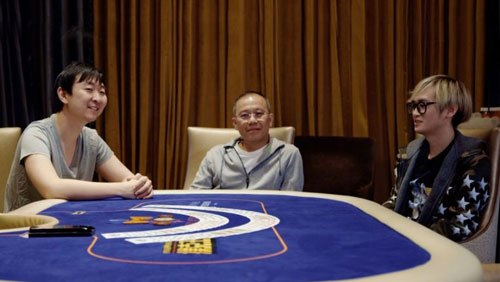 Nothing.
Cool.
I grab my trainers, and head into the corridor.
It's another world, with cleaners moving up and down with the speed of a time-lapse camera stuck in fast-forward. It's too much for these eyes. I put my cans on, listen to a podcast about bloated bellies, and head down to the breakfast area to create one.
Growing up in the UK, breakfast is either cereal, fry-up, or a few pieces of toast. In Korea, breakfast is no different than any other meal. It's not a surprise (I have Korean in-laws), and to be honest, as a vegan, it's nice to have something to eat.
I eat some pumpkin, tofu, nuts, seeds, kimchi and bean sprouts.
In no time the belly is gurgling like a bathtub filled with a decade worth of matted pubic hair.
I head to Starbucks to get ahead of the game. Bobby Baldwin walks past, his trademark cap making him look like a Craps dealer, and alongside him, wearing his usual gait is Ben Lamb.
Tom Dwan is waiting for a coffee, a joke shared between Gabe Patgorski and Peter Jetten, and we have a smile, and at that moment there is no mind in the world that I want to sneak into and spend the day peering into his life from the wardrobe.
I write three articles, head back to the room, sleep; no kids, no wife, it's serene, and if I hadn't set the alarm, I would have given Rip Van Winkle a run for his money.
After a quick shower, I dart off to the tournament room to interview Ben Lamb. We set up. Lamb hands me a raincheck. I question Wai Kin Yong instead; we talk about flow, and it's clear that there are few people in the world (if any) who have played more Short-Deck Ante-Only hands than this young man.
I set up behind the curtain, away from the hustle and bustle of the tournament area.
The pathway next to me that leads from the cash game area to the toilet transforms into a running track. A rich looking someone runs past, conducting business on a mobile phone all Gorden Gecko-like. I get a wave from Jason Koon running in the opposite direction.
And then the tournament begins.
Level 4 – 2k Ante 
After three levels of foreplay, it's Wai Kin Yong who looks the more rampant, taking the early chip lead, tripling up through Yeu Wei Hsiang and Siow Choon Tong when his pretty looking T9s beat the AQs of both of parties when all-in pre-flop.
Level 5 – 3k Ante 
I take a peek around the curtain, and see Phil Ivey sitting at one of the outer tables. His usual leggy stance is taking up three seats, making me think it's the only reason he likes short-handed play.
Cheong Cheok Leng sends Brian Potashnik to the rail in a three-way all-in involving Peter Jetten. The QTo of Cheong beating the JTo of Jetten, and KQo of Potashnik, when the board produced trip tens, and the queen kicker played.
Then Ivey got a taste of what his day would be like, losing two 100k bullets in quick succession, the first against Yong QTo<KJo, and then the annoyance of seeing KK lose to AJs of Rui Cao.
Yong extended his lead after rivering a straight against the turned top pair of Lim Chin Wei after the money went in pre-flop, and Rui Cao declared his intention to have another successful Triton Series (he made two final tables in Montenegro) in taking the chip lead from Yong after his KQ flopped a king against Yong's JTo.
Level 6 – 4k Ante 
With Yong junior putting everyone on scripts and sedatives, his father, Richard joined the orgy. It was a quick feel. The Triton founder busted to the tag team of Beh Kok Weng and Ben Lamb in two hands where he found himself a dog on both occasion, and the deck kept him in the kennel.
With Yong senior out, it was time for Yong junior to take care of the family name.
Chip Counts at the end of Level 6
Wai Kin Yong – 2,274,000
Rui Cao – 1,066,000
Foo Sze Ming – 738,000
Beh Kok Weng – 592,000
Ivan Leow – 588,000
Level 7 – 6k Ante 
Ivan Leow exited the competition when his A9s lost out to the KQo of Leng. Leow flopped an ace, but the runout gave Leng two pairs. We lost Mikita Badziakouski when Yong flopped and rivered jacks for his QJo to beat AKo all-in pre-flop. And Ivey left the building when his AQo failed to beat QJs – once again those pesky jacks emerging from the box to scare the crap out of the competition.
Jacks were good, today, and Tong picked up two of them, moved all-in, and received callers in the shape of Nick Schulman (QQ) and Leng (AQo), and promptly tripled up. The hand saw Leng hit the rail; Schulman had enough chips to survive the blow.
And Tom Dwan arrived, looking all chipper, hoping to run up a stack in the last two levels.
Level 9 10k Ante 
Badziakouski lost the last of his three buy-ins when Ben Lamb's AK knocked his pocket jacks out cold, and Dwan was the final elimination of the day losing T7s to the J9o of Leow, but the smile was still in check as he went searching for a seven-day bender of a cash game.
Here are the final day chip counts:
End of Day Chip Counts
1. Wai Kin Yong – 3,380,000
2. Ivan Leow – 2,320,000
3. Foo Sze Ming – 1,595,000
4. Ben Lamb – 1,030,000
5. Siow Choon Tong – 695,000
6. Nick Schulman – 685,000
7. Romain Arnaud – 635,000
8. Rui Cao – 610,000
9. Lim Chin Wei – 510,000
10. Stephen Chidwick – 480,000
11. Chio Lin Ern – 395,000
12. Ying Jinghui – 265,000
Add the 12 to the 4 that ended Day 1A, and you get this:
Day 2 Starting Chip Counts
1. Wai Kin Yong – 3,380,000
2. Ivan Leow – 2,320,000
3. Chow Hing Yaung – 1,953,000
4. Alan Sass – 1,879,000
5. Foo Sze Ming – 1,595,000
6. Ben Lamb – 1,030,000
7. Gabe Patgorski – 962,000
8. Kenneth Kee – 904,000
9. Siow Choon Tong – 695,000
10. Nick Schulman – 685,000
11. Romain Arnaud – 635,000
12. Rui Cao – 610,000
13. Lim Chin Wei – 510,000
14. Stephen Chidwick – 480,000
15. Chio Lin Ern – 395,000
16. Ying Jinghui – 265,000
The action begins at 2 pm (local time).
You can catch all of the action on the Triton Twitch Stream.