The 49th Annual World Series of Poker turned out to be another record-breaker, creating a whole host of records including most entrants, most significant prize pool, and the highest number of millionaires.
As I write this, Tom Dwan is ordering a coffee, giggling with Gabe Patgorski and Peter Jetten.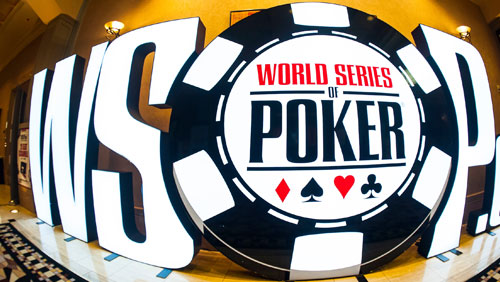 I wonder how many World Series of Poker (WSOP) bracelets Dwan could have won if he decided to make bracelet hunting his passion. What if he had decided to create a legacy of a public nature instead of a private one.
We will never know.
But I do know this.
The 49th Annual WSOP was another record-breaker.
I know this because the email that landed in my inbox this morning said: It was a record-breaking summer. 
I can't remember the last time I received a post-WSOP analysis that wasn't a record-breaker.
78-events.
50-days.
Heaven and Hell sharing the same green room.
Let me share the details with you.
The Players 
A record 123,865 entrants (+2.4% YoY) turned up from a record 104 different countries, and bracelets ended up on the wrists of people from a record 18 individual countries.
New countries that now house bracelet winners include Colombia (Daniel Ospina beat 260 entrants to win the $1,500 No-Limit 2-7 Lowball Draw), The Philippines (Mike Takayama defeated 2,065 entrants to win the $1,000 No-Limit Hold'em (NLHE) Super Turbo Bounty event), and Portugal (Diogo Veiga bestest a field of 1,020 entrants to win the $3,000 NLHE event).
As you would expect, the US (89,533) and Canada (5,128) led the way with the number of entrants, but the UK made a sterling effort of threatening Canada's grip on that second spot with 4,534 entrants, vastly more than any other nation outside of North America.
The Seniors event drew in a record 5,918 entrants (Matt Davis won $662,676). We had the largest-ever online WSOP bracelet event when William Reymond won the $365 buy-in NLHE event for $154,995.74. And the $25,000 Pot-Limit Omaha (PLO) High Roller drew a record 230 entrants with Shaun Deeb beating Ben Yu, heads-up, to take the $1,402,683 first prize. A record ten events were able to headline a $1m+ first prize, and nine events attracted 4k+ field sizes, another record.
Regarding players, Michael Phelps, Max Kruse, and Richard Seymour added a unique pro sports spice. Jennifer Tilly, James Woods and Brad Garrett added the Hollywood glitz. And record producer, Steve Albini, won the $1,500 Seven Card Stud event for $105,629.
The Chinese won three bracelets, after only winning one in the previous 48-years (Yueqi Zhu won the $1,500 Mixed PLO/NLHE Hi-Lo/Big O, Longsheng Tan destroyed the field in a $1,500 NLHE event, and Guoliang Wei won the Little One for One Drop).
Chris Ferguson and Barry Greenstein tipped over the 100 cash mark. Phil Hellmuth extended his all-time cash record (138) and won a record 15th bracelet in a $5,000 NLHE event. Joe Cada, Justin Bonomo and Shaun Deeb won two bracelets each, the latter going into the World Series of Poker Europe (WSOPE) in Rozvadov with the lead in the Player of the Year race.
The Money 
The 49th WSOP accumulated a record $266,889,193 in prize money (+15.5% YoY), and a record 18,105 people received a portion of those funds. In the 49 years of WSOP's existence, they have pulled in $2,999,643,394 from punters.
A record 28 players won $1m or more, the average first prize was $655,337, and the average field size was 1,588 entrants. The WSOP does have more to do when it comes to attracting more females (maybe they can start by NOT putting the final table of the Ladies Event in a corner with baby).
95.14% of entrants were male, 4.86% were female, and the average age was 42.27, showing that despite numbers improving the youngsters are not putting in the time.
The Main Event 
The 7,874 entrant field (9% YoY) was the biggest since 2006, as was the $74,015,600 prize pool. A ballsy effort considering online tributaries are much reduced since Black Friday, showing that live poker has found a way to thrive against a significant obstacle.
The $8.8m first prize, won by John Cynn, is the third largest ever, behind Jamie Gold ($12m, 2006) and Martin Jacobson ($10m, 2014), and the second pure first prize (Jacobson's $10m was a promotional gimmick).
The 4,571 entrants that competed on Flight C was a record, as were the 1,182 players who received a return on investment. The oldest player to compete was John Olsen, 88, nine years younger than the record holder Jack Ury.
Charity 
The WSOP also raised $2,790,008 for charity due to their affiliation with the One Drop Foundation, and that doesn't cover the hundreds of thousands donated by players via personal means, including Justin Bonomo who gave $75,000 of his One Drop win to effective charities.
The One Drop and the WSOP have donated $23,166,974 since falling in love, back in 2012. 
Ty Stewart who had a deep run in the Employee Event rounded things off nicely when he said:
"Thanks to the loyal players that make it out to Las Vegas every summer." 
And thanks to the WSOP for putting on a show that keeps them coming back.