Former Macau triad boss Wan Kuok-koi has reportedly raised US$750 million for HB token, a crypto coin that will be used as the prize money for a series of chess and poker tournaments in mainland China.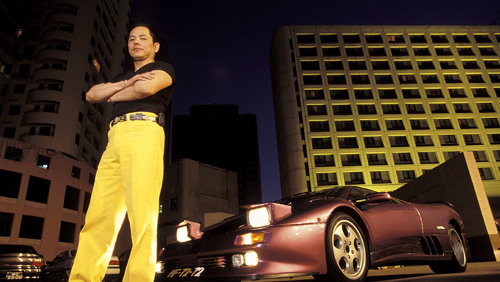 On Saturday, the South China Morning Post reported that Wan, also known as Broken Tooth, launched the initial coin offering (ICO) for HB in Cambodia. The event was reportedly attended by "high-ranking government and military officials," as well as businessmen and celebrities from mainland and Hong Kong.
There will be 1 billion HB tokens available, according to the report, but only half of these will be offered to the public. So far, 450 million of the tokens were already sold in Cambodia, Thailand and the Philippines by Wan's company, World Hung Mun Investment. The final stop for the ICO will be in Malaysia on July 18.
Wan reportedly plans to use the HB tokens prize money for the series of chess and poker tournaments that he will hold across mainland China, starting in Hainan in October. The former Triad boss has teamed up with a company called Zhonggongxin Cosmos (Beijing) Internet Technology Ltd., a subsidiary of an alleged state-owned assets management company. According to its website, the Zhonggongxin Cosmos has an "exclusive government authorization" to operate two kinds of poker games, in addition to its online chess games. The company also has brick-and-mortar games halls.
In an interview with SCMP, Zhonggongxin Cosmos staff GuoJia confirmed that the total prize amounting to more than 10 million yuan(US$1.5 million) will be paid "in half cash, half HB." The tournament will start with qualifying matches, and is expected to run for a year.
Industry veterans, however, questioned the use of cryptocurrencies as payment in chess and poker games, particularly in China, which has been notoriously strict in what it considered as gambling. SuoGuojing, founder of the China Lottery Industry Salon, told SCMP: "When chess and poker games are paid with tokens such as cryptocurrencies that can be converted to fiat currencies, it becomes a disguised form of gambling in China."
Wan, who was released from prison in December 2012 after serving a 14-year sentence for illegal gambling, loansharking and criminal association, was no stranger to crypto tokens and ICOs. In 2017, the former 14K Triad leader made headlines when he appeared at a signing ceremony for Dragon Corp's Dragon Coin. Dragon Corp has already denied Wan's financial involvement in the casino project, but the association has continued to hound the Hong Kong-based gaming company to this day.