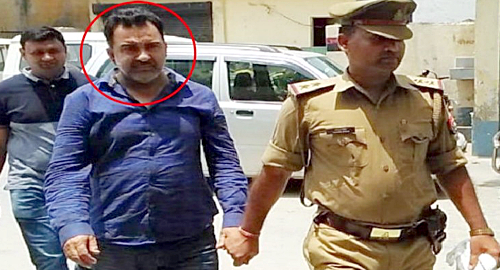 A major World Cup and cricket betting bookmaker has been (literally) run to ground in India following a police car chase.
On Monday, Indian media outlets reported that infamous bookmaker Shyam Bohra had been arrested in Delhi after being recognized on the street. Bohra reportedly attempted to mow down a police sub-inspector with his SUV before fleeing the scene, only to be chased and arrested a few kilometers down the road.
Bohra was out on bail after being arrested in April by police in Noida, a satellite city of Delhi, for illegal betting activity. However, as with other bookmakers who find themselves in Indian police stations, he was somehow able to avoid a more permanent detention.
Local media reported that when Bohra was arrested this week, he had in his possession account books detailing his 2018 FIFA World Cup betting records. Bohra's betting operation, which involved around 100 local agents, allegedly handled daily wagers of Rs40m (US$582k) on the World Cup and the England-India cricket series.
Bohra was also carrying six mobile phones, some of which revealed contact with several 'prominent' local residents, including some Delhi and Lucknow politicians. Police are now calling in some of these individuals for questioning. A bust of a different bookie earlier this year also revealed several celebrities among the betting clientele.
Police froze 10 bank accounts linked to Bohra's operation, which reportedly also employed the hawala informal money transfer system popular in Muslim communities.
The arrests of Bohra, several of his family members and (eventually) a prominent politician or two will undoubtedly spur further discussion of whether it's finally time for India to legalize sports betting and other forms of gambling.
Last week, the Law Commission of India delivered its long-awaited report on India's gambling laws, which stated that, while gambling could be a societal scourge, the nation's existing prohibition had proven ineffective in eradicating gambling activity and thus "effectively regulating [betting and gambling] remains the only viable option."
Reaction to the report has been mixed, with many members of India's thought-making class pressing for urgent legalization, while others cling to their prohibitionist impulses despite the lack of evidence that the ban is having any impact on gambling prevalence.
Comments