Two stories from the World Poker Tour as Adam Pliska and the crew partner with the real money gambling app b spot and Quentin Jones wins the WPTDeepStacks Main Event in Tampa.

I've won money through last-minute goals in football, long-range putts in golf, and even beating my mate Skit in the father's 100m dash during my son's sports day, but I have never felt the hairs stand on end the way they do when I have a flutter on the gee-gees.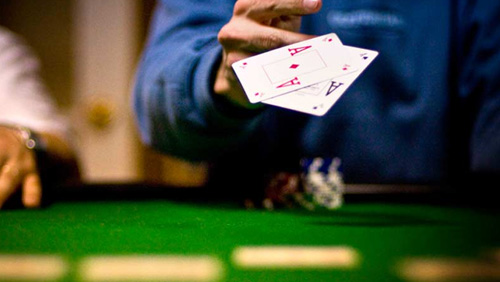 Horse racing.
The Sport of Kings.
There is nothing that makes you lose your shit more than pretending you are the jockey as your horse leaps over the final fence and sprints for home.
And somehow the World Poker Tour (WPT) is about to give their loyal customer-base a dose of that same orgasmic feeling.
I use the word 'somehow' because I can't figure it out.
Maybe you can.
A press release landed in my email tray this morning. It came from the WPT, and it told a tale of a new partnership with a company called b spot. I like what they did there. The g spot thing. And like the g spot, I found it incredibly difficult to pinpoint exactly where or what it is.
Here is what I know from the press release.
b spot is a gambling entertainment company that offers US-based players the opportunity to gamble for real money in a variety of different states. As you know, finding a respectful company that can do this is like finding a whole woman inside the guts of a python, but like that python thing, it can happen.
It seems that b spot has created a broad spectrum of casino-style slot machine games somehow linked to the results of real live horse races, and this is where the trail runs cold. I've tried to figure this out, but I can't seem to find any further information on how it all works.
Google, you let me down badly.
So, I will reach out to b spot and ask them a few questions, but in the meantime, be aware that sometime this year WPT fans will be able to gamble for real money on WPT-branded casino style slot games, linked to horse racing results on the b spot app.
Mind-boggling.
Quentin Jones Wins WPTDeepStacks Tampa
 Quentin Jones has taken down the WPTDeepStacks Main Event at the Seminole Hard Rock Hotel & Casino in Tampa.
Jones topped a field of 620 entrants, way down on the 704 that competed last year, to win the $116,435 first-prize and a $3,000 package in the WPTDeepStacks Championship event.
It was a step up in class for Jones who before this tournament had only cashed 11 times in live events all of which were for a buy-in of $350 or less. $350 was exactly the outlay for Jones in this one as he qualified for the $1,100 Main Event via a live satellite.
Jones defeated Michael Cohen, heads-up. Cohen also finished runner-up last season, when he lost to Rex Clinkscales, and the defending champion nearly went back-to-back, finishing seventh.
Here are the final table results.
Final Table Results
1. Quentin Jones – $116,435*
2. Michael Cohen – $79,350
3. Justin Donato – $51,180
4. Chaz Wexler – $36,860
5. Charles Kahrs – $28,290
6. Josh Garber – $22,835
7. Rex Clinkscales – $18,970
8. John O'Neal – $15,120
9. Chris Agnello – $11,340
* Includes a $3,000 WPTDS Championship Package.