A round-up of the World Series of Poker including bracelet wins for Joe Cada and Jordan Hufty, a potential first female bracelet of 2018 in the Omaha, and Nick Petrangelo leads the final ten with $2.9m up top in the $100k. 
I don't know if it's my age, but I'm forgetting faces.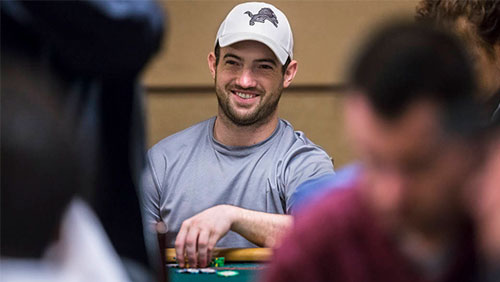 Take this week in Barcelona where I am in the midst of the 888Live throng. I spied with my little eye Harry Lodge. He was sitting in front of the sportsbook screens poking holes in his phone.
Ginger hair.
Glasses.
Pale white skin.
Harry Lodge.
I have never met the man before.
I go back to my computer, pull up his image on the screen.
Harry Lodge.
I grab my dictaphone, and head out into the deafening roar of the slot machines to ask him for an interview, and he's gone. I look around for him. Nowhere.
Then I sit down to write this, and notice that Harry Lodge finished fifth in the $3,000 No-Limit Hold'em Shootout at the World Series of Poker (WSOP).
For a milisecond I ponder the odds of Lodge jumping on a jet plane to compete in 888Live Barcelona after making a WSOP final table, discard it as nonsense, and blame it on my age.
Joe Cada Wins Event #3: No-Limit Hold'em SHOOTOUT 
Joe Cada knows Harry Lodge.
The former WSOP Main Event Champion had to face him on his way to winning a third back-to-back Sit n Go that resulted in a third gold bracelet win.
The final table took 196 hands.
Lodge wasn't the only Brit at the table.
Jack Maskill finished fourth.
But the main story of the final table was the appearance of two former WSOP Main Event Champions in the last three. Cada, the youngest to ever win a WSOP Main Event, and Joe McKeehen, sparred with the 2014 European Poker Tour (EPT) Barcelona Main Event runner-up Sam Phillips for the bracelet.
McKeehen is in fine fettle, making three World Poker Tour (WPT) Final Tables this year, most recently finishing third in the Bobby Baldwin Classic at ARIA, but Cada sent him packing when his pocket kings clobbered McKeehen's pocket sixes on the head.
With McKeehen's scalp on Cada's black belt, the 2009 WSOP Main Event Champ enjoyed a 4.7m v 700k chip advantage when heads-up. But Phillips was a tough nut to place into the squirrels mouth, doubling up twice, and taking the chip lead until losing a race A4 v 66 left him with chip dust. Cada hoovered the rest up when his J3 beat 86.
The event attracted 363 entrants.
Cada got luckier than everyone else.
Seriously, he said so himself:
"You've just got to run good, and luckily I run better than everyone else."
The $226,218 that's currently heading towards his bank account is the fourth highest of his career, and all four of those giant six and seven figure scores came at the WSOP.
"I love playing here," said Cada.
I Bet you do. 
Final Table Results
1. Joe Cada – $226,218
2. Sam Phillips – $139,804
3. Joe McKeehen – $101,766
4. Jack Maskill – $74,782
5. Harry Lodge – $55,480
6. Ihar Soika – $41,559
7. Anthony Reategui – $31,435
8. Taylor Wilson – $24,013
9. Joshua Turner – $18,526
10. Jeffrey Trudeau – $14,437
Jordan Hufty Wins Event #1: $565 Casino Employees No-Limit Hold'em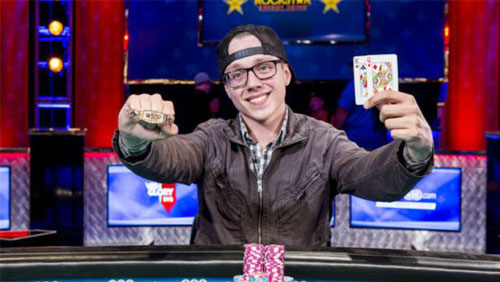 Jordan Hufty went from dealing in the biggest games in the world to playing in a WSOP Final Table, and he credits that experience as one of the primary reasons he felt so chilled going into the final table of Event #1: $565 Casino Employees No-Limit Hold'em.
Hufty, who told PokerNews that he only plays live tournaments 1% of the time (he spends 95% playing online, 4% playing live cash games, and 100% of his time figuring out his life in terms of accurate percentages), overcame the Day 1 Chip Leader, Jodie Sanders, in a heads-up match that lasted more than four hours.
"I've thought about this every day for the last 15 years and for it to actually happen is just unbelievable," said a tearful Hufty.
I just love the name.
I think I am going to buy a pet Gerbil and name it Hufty.
Final Table Results
1. Jordan Hufty – $61,909
2. Jodie Sanders – $38,246
3. Katie Kopp – $26,250
4. Zachary Seymour – $18,332
5. Won Kim – $13,031
6. Tom Booker – $9,432
7. Thomas Yenowine – $6,953
8. Skyler Yeaton – $5,222
9. Jason Pepper – $3,998
10. Brad Helm – $3,120
The Best of the Rest 
We could end up with a female WSOP bracelet winner right out of the gate.
Event #4: $1,500 Omaha Hi-Lo 8 or Better attracted 911 entrants, and only four remain at the close of Day 3, including Kate Hoang.
Here are those chip counts:
1. Julien Martini – 3,720,000
2. Kate Hoang – 2,255,000
3. Mack Lee – 425,000
4. William Kopp – 440,000
And the payouts
1. $239,771
2. $148,150
3. $104,016
4. $74,058
Dancing bears who rocked it deep in this one includied Jeff Shulman (12th), Danny Wong (13th) and Chris Bjorin (17th).
Nick Petrangelo Leads The Final 10 in the $100,000 High Roller 
The final table houses players owning eight WSOP bracelets, and whole lot of rungood.
Nick Petrangelo and Jason Koon entered fresh off a final table appearance at the Super High Roller Bowl. Stephen Chidwick and Adrian Mateos are the two best players in the world at the moment. Elio Fox just won his second gold bracelet. And let's not forget the likes of Fedor Holz and Bryn Kenney.
The event attracted 105 entrants.
This is what they're playing for.
1. $2,910,227
2. $1,798,658
3. $1,247,230
4. $886,793
5. $646,927
6. $484,551
7. $372,894
8. $295,066
9. $240,265
10. $240,265
Remaining Players
1. Nick Petrangelo – 13,460,000
2. Elio Fox – 10,180,000
3. Stephen Chidwick – 7,065,000
4. Jason Koon – 6,190,000
5. Fedor Holz – 3,530,000
6. Aymon Hata – 3,140,000
7. Chris Moore – 2,960,000
8. Adrian Mateos – 2,250,000
9. Andreas Eiler – 2,130,000
10. Bryn Kenney – 1,600,000
Finishing ITM
11. Christoph Vogelsang – $201,494
12. Thomas Muehloecker – $201,494
13. Michael Rosenfield – $174,190
14. Jason Mercier – $174,190
15. Paul Volpe – $155,378
16. Steffen Sontheimer – $155,378