The Phil Ivey v Borgata edge sorting case took a twist on Monday after Judge Noel Hillman, presiding over the legal tussle between Borgata and the card manufacturer Gemaco, ordered the card manufacturer to return $26 in a $9.9m lawsuit.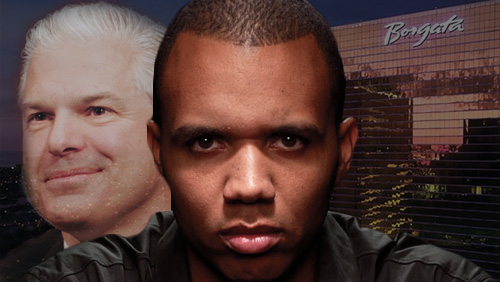 It's not cool to spit your coffee all over your MacBook before mimicking a big fat ginger cat coughing up a hairball. Judge Noel Hillman just made me do that. The New Jersey-based judge is funnier than a man with a wooden leg trying to cross a cattle grid.
When most people visit London, they jump on one of those double deckers and drive around taking snaps of the Tower of London and Buckingham Palace all the while hoping a terrorist isn't about to hop on board waving a machete.
Phil Ivey isn't 'most people.'
In 2012, Ivey arrived in London's swanky Mayfair district accompanied by Cheng Yin Sun, and the pair took Genting's Crockford's Casino to the cleaners at the Punto Banco tables to the tune of £7.7m.
Figuring that's a lot of money to lose, Crockford's security team pulled a couple of overtime shifts and proved that Ivey and his buddy had used a trick known as edge-sorting (using imperfections on the back of cards to determine what denominations they were) to win such a vast chunk of change.
They refused to pay the man.
Ivey sued (and eventually lost).
Meanwhile, the person responsible for the Baccarat budget in the Borgata Hotel Casino & Spa smelled something like a handkerchief after it had been used to wipe the salmon dribble from a baby's mouth.
In 2012, they had lost $9.6m to the same duet.
Coincidence?
Or did Ivey and his female accomplice dance to the same Crockford's beat.
Borgata sued.
Borgata won.
Ivey and his buddy appealed.
Judge Noel Hillman refused to allow the appeal to proceed until Borgata had settled their scrap with the card manufacturer Gemaco.
And this is where my coconut latte spews out of my nostrils.
Borgata v Gemaco – a Bit of a Comedown
Bypassing all of the legal jargon (I don't understand it), The Borgata sued the card manufacturers Gemaco for $9.6m, claiming it was their fault that Ivey and Yin Sun were able to edge-sort in the first place.
Judge Hillman rolled out the stipulations that Borgata agreed to with Ivey on the night.
1. For a private playing area.
2. A Mandarin-speaking dealer
3. Permission for Sun to sit with Ivey during gameplay
4. One 8-Deck shoe of purple Gemaco playing cards
5. An automatic shuffler
Judge Hillman told the court that had one of these five factors not been present then the edge-sorting could not have taken place, therefore, the Borgata could not wholly blame Gemaco for Ivey and Sun's haul.
The best Judge Hillman could do for the Borgata was order Gemaco to repay them the $23 it cost to buy the flawed deck of cards.
Cue the puke.
Moving forward Judge Hillman gave the parties three options:
1. Proceed to trial on Borgata's breach of warranty claims.
2. Stay those claims and certify Borgata's judgment against Ivey & Sun as final so the appeal could take place.
3. Or afford Borgata and Gemaco time to seek a private resolution of their dispute.
We will have an answer in 15-days time.