The Broadcasting Authority of Ireland (BAI) isn't happy with the state of TV commercials in the country.  It recently reviewed a number of channels and concluded that ads for gambling operations, as well as for children's toys, weren't adhering to regulations it had established. The findings reiterated that the agency has found in previous years, but there's little it can do to make changes.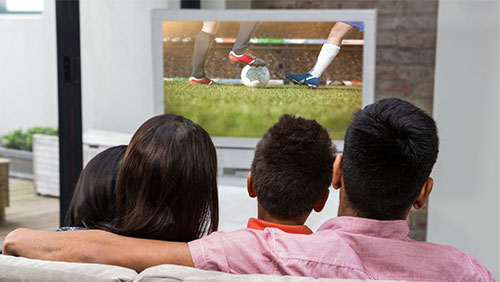 On Wednesday, the Irish Examiner reported that several advertisements for betting services have ran afoul of BAI regulations. According to the agency, there were six instances of ads for betting services, for which the content was "deemed to promote gambling."
Ladbrokes, Paddy Power and Lottoland.ie all produced commercials, as did PokerStars, which didn't carry the requisite label designed to encourage responsible gambling or warn against the perils of gambling.
The gambling promotions were included in the BAI review, which also focused foreign channels that broadcast in Ireland as well as the content of TV spots that target children. The BAI has, in previous years, also brought up the issue about the lack of warnings on foreign-based channels. However, since it still doesn't have jurisdiction over the broadcasters, its hands are tied to force a move. The BAI, established in 2009, is responsible for regulating all broadcasting, both radio and television, in Ireland, as well as participate in all media mergers in the country.
Rehab Bingo rebrands after ASA ruling
Over in the UK, Rehab Bingo was forced to change its name to Rosy Bingo after its original brand raised a few eyebrows—including those from the Advertising Standards Authority (ASA).
On Wednesday, the advertising watchdog raised the issue whether the brand name "condoned socially irresponsible gambling behavior that could lead to financial, social or emotional harm," as well as "suggested that gambling could provide an escape from personal problems."
According to the ASA, the name "Rehab Bingo" was featured on the home page and throughout the website www.rehabbingo.co.uk, and appeared in a paid-for-search on Google stating "Join Official Rehab Bingo Now."
In response, operator Broadway Gaming emphasized that a percentage of the funds raised from the site benefit The Rehab Group charity, which originally ran the site in 2005 until it joined Broadway Gaming in 2014. The funds raised by the website help "health and social care, training, employment and rehabilitation for adults, children, those with disabilities and socially disadvantaged individuals."
"We acknowledged that Rehab Bingo was launched by the Rehab Group Charity to fundraise for their activities," the ASA ruled. "However, we considered that, in relation to both ads, using the term 'rehab' in the context of gambling, where players were susceptible to addiction which could cause social, emotional and financial harm, was socially irresponsible."