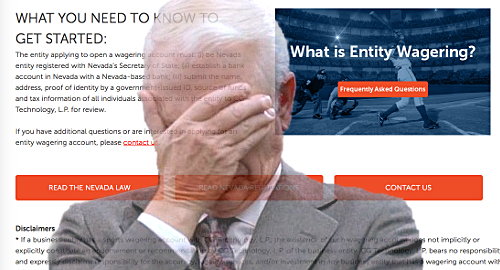 One of Nevada's so-called 'entity betting' operations has left a legacy of clients wondering about the fate of their deposited funds.
On Thursday, the Las Vegas Review-Journal reported that the Nevada secretary of state and attorney general had received complaints from clients of Bettor Investments, which formerly operated a Nevada-licensed entity betting operation.
In 2015, Nevada passed a law allowing out-of-state residents to participate in the state's legal sports betting market through mutual fund-style pools. Investors had no say in specific wagering decisions, which were made by the half-dozen or so Nevada-licensed entities that launched following the law's passage.
But despite the initial hype, Nevada sportsbooks proved largely uninterested in the entity betting concept, with the exception of CG Technology (CGT). Among the entities that did business with CGT was Bettor Investments, which was led by Reno-based Matt Stuart.
Bettor Investments promised "conservative growth, profits and stability for our investors." Using what it claimed were "mathematical probability calculations and statistical analysis," the entity made an average of 93 bets per month, none of which exceeded 2% of the fund's total capital.
In 2016, Stuart told the LVRJ that a series of high profile scandals involving CGT's sketchy technology and connections to illegal gambling and money laundering led him to shut down the Bettors Investments fund that November.
Instead of returning funds to Bettor Investments' clients – each of whom had invested a minimum of $500 – Stuart asked them to accept one-year promissory notes paying 12-14%. But as the notes came due late last year, Stuart reportedly stopped responding to his former investors' emails.
The Bettor Investments website has gone offline, and visitors are instead redirected to Nofreepicks, a subscription-based tout site that Stuart launched last November.
In their complaints to Nevada authorities, Stuart's former investors reportedly accused Stuart of going "radio silent" following customer inquiries about the fate of their funds. Nevada authorities declined comment on the LVRJ report, saying such complaints are confidential.
Comments