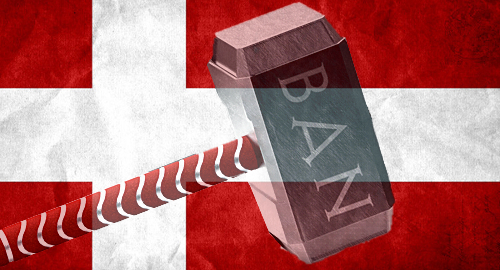 Denmark's gambling regulator has won a court case that will force Danish telecom firms to block 24 unapproved gaming websites.
Last October, Denmark's Spillemyndigheden regulatory agency ordered local internet service providers to restrict access to 24 online gambling domains that were targeting Danish punters without a Danish license.
The ISPs resisted the regulator's demands, prompting Spillemyndigheden to go to court to compel the ISPs to follow its orders. The court held a hearing on the matter on January 23, and on Tuesday handed down its verdict, ordering the ISPs to comply with Spillemyndigheden's demands.
The court order (viewable here, in Danish), notes that most of the offending websites offer gambling products that are under the purview of Spillemyndigheden, while also offering services in the Danish language and accepting Danish currency.
The other domains are so-called eSports 'skin' betting sites, which require players to register with the Steam marketplace, which also offers services in Danish language and currency. The court noted that Spillemyndigheden is one of many regulators who have expressed alarm about skin betting's reach to an underage audience.
Spillemyndigheden CEO Birgitte Sand said her group was "very pleased with the court decision," which demonstrated the "commitment we have to ensure Danish players against illegal gambling" and also "to protect the licensees who have a license to provide gambling in Denmark."
With regards to the skin betting sites, Sand said this sector "has our utmost attention, because it largely appeals to a younger and vulnerable target group." It's been years since the regulator went after online gambling domains in this fashion but Sand said her agency would continue to take legal action against any site that attempted to undermine Spillemyndigheden's authority.
The full list of websites affected by the court order reads as follows: betrally.com; betcart.com; winneronlinecasino.com; backgammonmasters.com; jackpotwinnerscasino.com; ndcasino.com; lucky18casino.com/luckyda/index.htm; 1xbet.com; oceanbets.com; primeslots.com; casinoblusky.com; parklaneecasino.com; atlanticcasinoclub.com; meridianbet.com; euromooncasino.com; osiriscasino.com; cashpotcasino.com; casino1club.com; csgoblaze.com; csgocrash.com; csgofast.com; csgolounge.com; dota2lounge.com and skinarena.com.