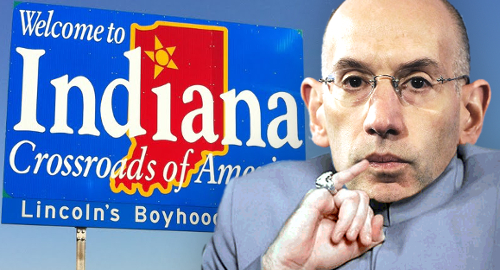 A new sports betting bill in Indiana is proof that (a) politicians are clueless about gambling, and (b) sports leagues are evil.
Monday saw Indiana Rep. Alan Morrison make good on last week's promise to introduce legislation to legalize sports betting – including online and mobile wagering – by the state's licensed gaming operators, provided the US Supreme Court takes a knife to the federal prohibition on single-game wagering outside Nevada.
However, ESPN's David Purdum reported that Morrison's HB 1325 contains an "integrity fee" of 1% of total betting handle, in addition to the 9.25% tax on sportsbook revenue. (A companion bill in the state senate contains the same tax rate but makes no mention of the integrity fee.)
The 1% fee would go to 'sports governing bodies,' an apparent reference to the professional sports leagues on whose product the books would be taking action. The fee is supposedly intended to assist these bodies in combatting the alleged onslaught of match-fixing that anti-gambling killjoys claim will follow betting legalization.
Morrison told ESPN that he'd had "input" regarding this integrity fee from the National Basketball Association and Major League Baseball. Morrison said he'd "welcomed some advice and language that makes the leagues feel a little bit more comfortable" regarding the prospect of legal wagering in Indiana.
Legal Sports Report's Dustin Gouker reported that HB 1325 would allow sportsbook operators to deduct the integrity fee from gross revenue in order to determine their tax obligations.
Notwithstanding, this fee would push sportsbook operators' effective tax rate up into nosebleed territory. Nevada's sportsbook operators pay 6.75% tax on betting revenue, plus a 0.25% tax on handle to the federal government (that Nevada pols have been attempting to repeal for years).
In 2014, New Jersey's sports betting backers offered the leagues the same 0.25% share of handle if the leagues got on board New Jersey's betting legalization train, but the state got no response. It's possible Indiana's 1% is an opening position, to be bargained down to, say, 0.5%.
But given that the NBA and MLB have been among the more receptive pro sports leagues to the idea of legal betting – the NBA had a sports betting law 'template' more than two years ago – they must recognize that this 1% fee is akin to a poison pill, in that operators won't see the point of acquiring an Indiana betting license.
So is that the point? The NBA in particular has long pressed for federal sports betting regulation, so this 'input' may be the league's way of ensuring state-level initiatives are DOA until the feds can get their act in gear. Then again, maybe the NBA and MLB are just that greedy.
Comments