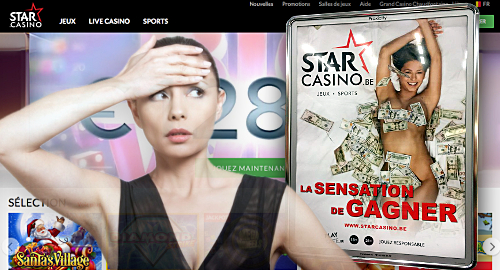 Online gambling operator Star Casino has earned the ire of Belgium's feminists after displaying too much female flesh in a public billboard campaign.
The new year was but a few days old when Belgian Twitter users started circulating photographs of a billboard featuring an apparently naked (and empirically attractive) woman lying on what appears to be a bed of clouds, her naughty bits strategically covered with (for some reason) American banknotes.
The ad, which was pimping Belgian online gambling licensee StarCasino.be, featured the tagline 'La Sensation de Gagner' (The Sensation of Winning), which evidently accounted for the blissful smile on the aforementioned lady's face.
The gist of the complaints was that this type of sexism had no place in Brussels metro stations and bus stops, and as the hashtag #EverydaySexism started to trend, public transport operator Stib ordered all 1,000 copies of the Star Casino billboard yanked from its facilities.
Stib apologized to those offended by the billboards, while claiming that the holidays must have interfered with its normal advertising vetting process. Stib invited those whose rage had yet to be sated to file a formal complaint with the nation's advertising watchdog, the Jury d'Ethique Publicitaire.
Star Casino, the online partner of the Grand Casino Chaudfontaine in Liège, has made a reputation using sexual imagery to sell its products, including well-endowed women with ample cleavage on full display alongside taglines promoting a 'double bonus' offer.
This probably isn't the best time for gambling companies to be dipping into their Nigel "what's wrong with being sexy" Tufnel bag of tricks, and not just because of the still growing #MeToo movement. Remember that Belgian politicians are currently in the process of restricting gambling promotional campaigns to (essentially) whispers in dark alleyways. So guys, maybe keep it in your pants for a time, okay?
Comments