Between Stephanie Raquel and I, the CalvinAyre.com team schedules, shoots and edits literally hundreds of video interviews a year, one of the features that truly separates our industry news site from the rest.  After reviewing the numbers for 2017's top ten most viewed CalvinAyre.com interviews, one thing stood out immediately – five out of the ten on the list are related to Bitcoin and Blockchain.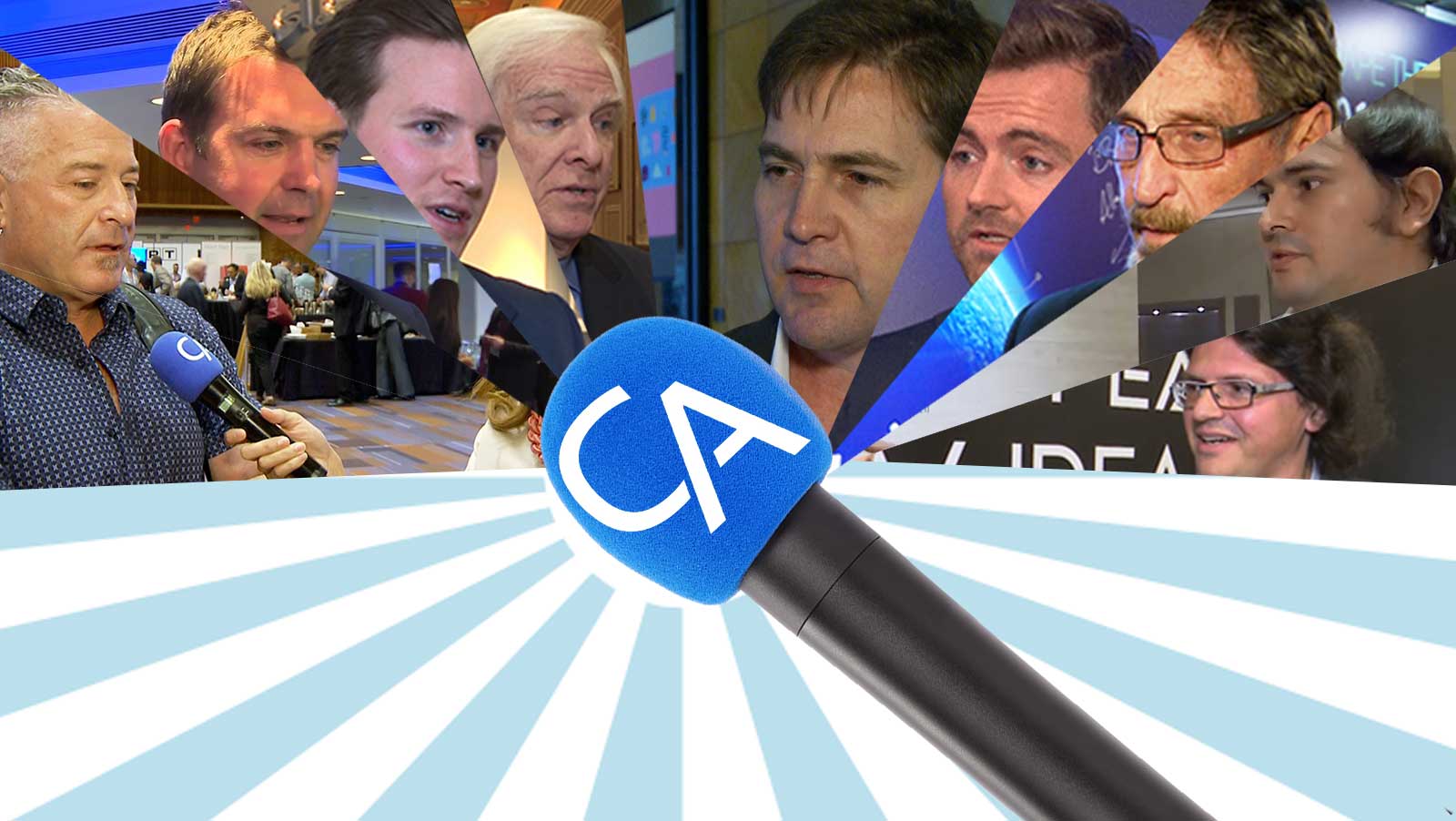 Considering in 2017 we interviewed world-famous sports legends such as Roberto Carlos, David James, Frank Bruno, Eddie Hall and Chris Kamara– none of which who made this list- it's strong message that Bitcoin is an enormous topic of interest with our readers, according to the numbers.  The other topics hitting our list include virtual sports, online lottery, the role of bonusing and a call for innovation, all also important areas to understand in order for our industry to grow and prosper.
Top 10 most popular CalvinAyre.com Video Interviews of 2017
10. Stuart Trigwell: Virtual Sports needs to level-up their game  
Within the sports betting industry, virtual sports are becoming more and more popular with bookmakers and consumers, especially as the technology powering the sector sharpens. Stuart Trigwell of Global Bet, a virtual sports supplier to the betting industry, believes by making the virtual games more "life-like", they will pick up popularity with sports betting punters.  For this reason, Global Bet brought NBA players into their studios and used 3D animation, developing a leading virtual basketball game amongst others.
9. Angelo Dalli: Online Lottery is a sleeping giant
Lotteries represent one of the oldest forms of gambling that still thrives today and Angelo Dalli of Lotto Hero believes online lottery is a sleeping giant for our industry. Dalli said online operators must find ways to make lottery games exciting for online players, for example, Lotto Hero gives players the opportunity to win $1 million an hour, "every hour, on the hour, 24-hours a day".  His goal was to create a product that sits between casino slots and sportsbook, complete with a slick interface and other special features.
8. Harry Lang: Don't rely too much on bonuses
We all know the days of excessive bonusing and bonus wars are coming to an end and operators must evolve their strategy for acquiring players.  Harry Lang, now formerly of Pinnacle, believes bonusing is more productive from a retention stand point because with all the play-through requirements associated with a welcome bonus, new players aren't buying into them anymore.  Rather than pushing out bigger and bigger welcome bonuses, Lang advises operators to focus more on product differentiation and marketing innovation.
7. Calvin Ayre: Bitcoin to make gaming regulators "less relevant"
Our very own Calvin Ayre, who now holds the title of "Bitcoin Entrepreneur and Economic Envoy to the Government of Antigua" has recently dedicated himself to the development and mass adoption of Bitcoin Cash, the true Bitcoin.  While Ayre recognizes the important role regulators play in the online gambling industry, he predicts they will become less relevant as Bitcoin and Blockchain become more mainstream.  When it comes to the Canadian gaming industry in particular, he forecasts a strong future and pointed out that internationally regulated sites offer players a greater degree of security than provincial monopoly sites such as BCLC's PlayNow.com.
6. I. Nelson Rose: Supreme Court ruling in favor of sports betting is close to unanimous
On December 4th, 2017, the Supreme Court agreed to hear New Jersey's oral arguments on why PASPA must be struck down, with their decision to be revealed in early 2018.  I. Nelson Rose is forecasting a favorable outcome for New Jersey and is confident the court will declare PASPA unconstitutional.  If the court indeed rules PASPA as unconstitutional, Rose predicts there will be an explosion of sports betting in the United States and that Fantasy Sports will take a big hit.
5. Dr. Craig Wright: The Bitcoin community must come together in order to move forward
Dr. Craig Wright, one of the early minds behind Bitcoin and Chief Scientist of nChain Group, talked on how the Bitcoin community must stop wasting energy fighting with each other over scaling issues and come together as one to push the industry forward. He also highlighted the critical role miners play in the future of the Bitcoin ecosystem and explained the network works solely because of the miners.  He explained how altruism is not a part of Bitcoin, especially when it comes to the miners because they do get paid for their services and it's a competitive space.
4. Benedikt Manigold: Virtual currency regulation has a trade-off
The regulation of crypto-currencies such as Bitcoin has been a hotly debated topic for months now, with no clean-cut resolution in sight.  Benedikt Manigold of Cubits understands the dilemma regulators are facing and their lack of fully understanding Bitcoin adds to the problem.  On one hand, regulators don't want to stifle innovation in crypto with too much regulation, but without some sort of regulation, it will be difficult for the industry to move on to the next stage.  On a positive note, Manigold said more and more companies such as Cubits are now supporting crypto-currency regulation than in previous years.
3. Frank Schuengel: Gaming industry too lazy to innovate
The importance of innovation is covered at every single iGaming industry event, yet iGaming Consultant Frank Schuengel claims our industry is lazy when it comes to innovating.  He said developers have trouble coming up with "the next big thing" because operators are too stuck in their ways and not willing to give developers space to work on ideas.  Schuengel claims operators must somehow create an ecosystem allowing for innovation and to look beyond the iGaming industry for ideas and inspiration.
2. John McAfee: "Worldwide phenomenon" Bitcoin frightens governments
John McAfee, creator of the McAfee anti-virus software, is a crypto-currency enthusiast and said governments are in a bind with Bitcoin because if everyone is using Bitcoin, the government doesn't know what your income is and therefore can't tax it.  He said its impossible to create a law or to legislate something that will stop Bitcoin (or any crypto-currency) because technically, you cannot.  McAfee said he supports self-regulation, especially when it comes to ICOs, but emphasized the "fear" should be with the governments and central banks, not the consumer.
1. Craig Wright: Bitcoin Cash's superiority comes down to fees 
The first real applications of Bitcoin and other Blockchain networks were with poker, something Dr. Wright said most people don't realize.  Using Bitcoin to gamble online is better for both the operator and player because players can play safely, the operator knows the money is there and fees are lower.  Due to scaling issues with the legacy Bitcoin, on August 1st Bitcoin Cash was created and its much more in line with the original vision of Bitcoin, according to Dr. Wright.  For online gambling industry professionals and enthusiasts, he said Bitcoin Cash is superior to the legacy Bitcoin because the transaction fees are much lower.
Comments