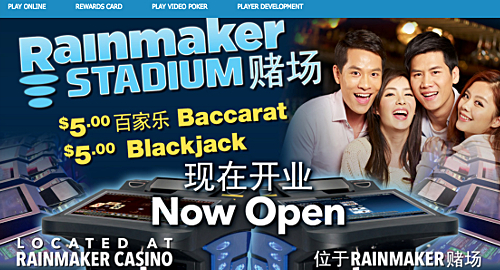 Connecticut's Foxwoods Resort Casino has become the latest US gaming venue to incorporate 'stadium' gambling positions into its offering.
This week, Foxwoods announced that its Rainmaker Casino – one of six gaming venues on the property – had added a new Rainmaker Stadium hybrid electronic gaming set-up, featuring 30 play terminals and three live dealers, allowing players simultaneous access to both blackjack and mini-baccarat games.
The new Rainmaker Stadium set-up comes courtesy of a partnership with the US division of gaming technology provider Novomatic. Connecticut's other tribal casino, the Mohegan Sun, launched its own 41-seat stadium blackjack set-up last year following a deal with tech provider Shuffle Master.
Foxwoods plans to add a similar stadium set-up at its Fox Tower in 2018 that will feature 24 play terminals and three additional games. The plan is to link up the two systems so that players at either venue can play any of the different games without leaving their seat.
Stadium-style electronic table games first became popular in Asian casinos, particularly in Macau, where they were seen as a way of circumventing the restrictive cap on the number of live gaming tables. Las Vegas Sands brought the product to its Sands Bethlehem casino in Pennsylvania last summer and other US casinos have been quick to follow suit.
Foxwoods' own marketing material for the new Rainmaker Stadium product includes text in both English and Mandarin, and depicts four happy young Asian faces, underscoring the importance of the Asian audience for casinos in pretty much all markets.
On a related note, Foxwoods announced Tuesday that it had just hired Ming Mak as its new VP of Asian Marketing. Mak, who most recently served in a similar capacity at Pennsylvania's market-leading Parx Casino, has also performed similar functions at casinos in Atlantic City.
Foxwoods CEO Felix Rappaport called Mak an "ideal fit' for the casino due to his "outstanding track record in not only the gaming resort industry, but in driving the Asian consumer demographic to casino properties."
Comments