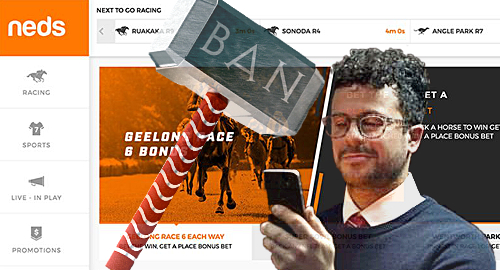 Australian online bookmaker Neds hasn't been in business more than a couple months, but has already had two of its commercials banned from the airwaves.
This week, the Australian Standards Bureau (ASB) ruled that a Neds commercial had contravened advertising rules by depicting a man who gets into a crowded elevator, presses all the floor buttons, then proceeds to whip out his smartphone and study Neds' online betting offers.
The ASB said it interpreted the man in the "it's time to bet" commercial having pressed all the elevator buttons in order to give himself more time to wager online, and thus the commercial was guilty of promoting excessive gambling. Neds has dutifully pulled the ad from its websites and from YouTube.
This is the second time in as many weeks that Neds has been forced to yank its promos off-air. Last week, the ASB ordered Neds to pull an ad in which house builders were depicted as being more interested in wagering with Neds than building houses.
Neds has so far released five ads, all of which have been the subject of complaints by Financial Counselling Australia, whose policy director Lauren Levin was quoted by ABC saying the gambling industry had "overstepped the mark of what is reasonable."
That said, the ASB dismissed complaints against the other three Neds ads, one of which depicted a male bettor in a clothing store change room continually handing his female partner more items to try on so that he could have more time to wager. Another ad showed a man letting a little old lady go in front of him at a supermarket checkout so he can have more time to wager, while the other spot showed a man receiving a telemarketing call, then telling friends it was his work on the line and excusing himself to another room where he, well, you get it…
JUDGE RIPS TABCORP'S LAX AML PRACTICES
In other Aussie bookies behaving badly news, a Federal Court judge has revealed why he slapped a A$45m penalty on betting operator Tabcorp Holdings this spring for violating the Anti-Money Laundering and Counter-Terrorism Financing Act.
On Friday, Justice Nye Perram said Tabcorp's AML failures "did not arise as a result of a deliberate intention to contravene the Act," but instead resulted due to "insufficient resourcing together with insufficient processes for consistent management oversight, assurance and operational execution … Management should have done more."
So there you have it. Tabcorp, which routinely rages against internationally licensed online operators with more competitive product offers as being little more than criminals, didn't intentionally violate AML laws. No, Tabcorp broke the law because they didn't give a shit. Hey, maybe Tabcorp has just found its new slogan…
Comments