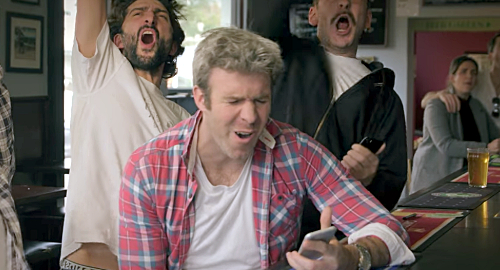 The arrival of another Melbourne Cup Carnival week has brought fresh scrutiny – and some choice satire – to Australia's online sports betting industry.
The annual Melbourne racing event is roughly the equivalent of those salmon runs that bring all the bears down to Canadian riverbeds each year. Naturally, some betting operators are coming under fire for the methods they're using to ensure they get their share of these fishy spoils.
In one case, a woman took to Australian radio airwaves to complain that Paddy Power Betfair's down under division Sportsbet had sent an unsolicited text message to her mobile phone. The woman said she had never subscribed to any betting agencies, and that opting out of receiving further promotional messages proved more difficult than she'd have preferred.
The aggrieved woman suggested the apparent randomness of Sportbet's targeting meant problem gamblers or underage phone users could have received similar messages. A red-faced Sportsbet subsequently issued a statement apologizing to "anyone who has received our communications unwantedly."
Other women have likely found fault with a William Hill Australia email promo offering a $150 bonus to existing customers who convinced a friend to open a new betting account. The promo specified that the offer applied to "male clients only."
According to the Daily Telegraph, the penis-prejudiced requirement didn't appear in the offer's terms and conditions and the 'male clients only' stipulation was apparently down to a lone employee's preferred method of deterring punters from signing up their wives, girlfriends and other female acquaintances (with no interest in betting) to reap freebies for themselves.
Even brand new bookies like Neds – which only launched last month – are coming under fire. Last week, the Advertising Standards Board (ASB) banned a Neds TV spot for promoting "excessive participation in wagering activities."
The ad in question showed a bunch of house builders working hard at not building houses because they were all too busy betting with Neds on their mobiles. Neds claimed the ad was "humorous and light-hearted" and that it depicted the workers betting "on their downtime."
The ASB, which received over 60 complaints regarding the ad, didn't buy Neds' argument, deciding that the ad was portraying "excessive participation in wagering activities" and ordered Neds to pull the ad off the air.
Clearly, some Aussie bookmakers aren't doing the industry any favors with their marketing activities, which are facing ever-tighter restrictions. As such, they may deserve the piss-taking of Melbourne-based comedy group The Peleton, who've just released some spoof ads (viewable below) that may cut a little too close to the bone for some Aussie operators. "Give us your cash, fuckheads!"
Comments