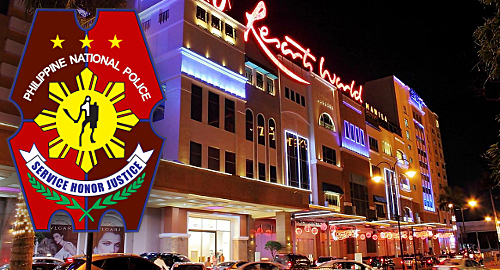 A Philippine police colonel is among the suspects in the recent kidnapping and murder of a local casino junket operator.
On October 21, junket operator Oscar Tan aka Carlos Abad Tan and his chauffeur were abducted en route to the Ninoy Aquino International Airport in Manila. Tan's driver was released later that same day while Tan was held after his kidnappers issued a P50m (US $1m) ransom demand.
This ransom demand reportedly went unpaid, so Tan's kidnappers reduced their demand to P10m, but this too went unpaid when further negotiations failed. On October 24, Tan's body was discovered near a bridge in Tagaytay City.
On October 27, the Anti-Kidnap Group (AKG) of the Philippine National Police (PNP) were involved in a shootout leading to the deaths of four individuals believed to be connected with Tan's kidnap and murder. To the PNP's surprise, one of these four was a serving police officer with the Quezon City Police District (QCPD), two others were former cops, while the fourth was a civilian.
A fifth suspect, also a serving QCPD officer, surrendered to the AKG on Friday. This officer fingered Southern Police District (SPD) Superintendent Johnny Orme as the alleged leader of the kidnappers, while the gang's operations were reportedly financed by a gasoline station owner named Alex Gozum.
Orme, who has yet to be detained, had reportedly developed a side business lending money to losing gamblers in Manila casinos. Police claimed that both Orme and Gozum were regular fixtures at both Resorts World Manila and the Solaire Resort & Casino.
Police now suspect that Orme was interested in expanding his business into junket operations and that the easiest way of doing so was to take over an existing junket business, such as Tan's.
The embarrassing revelations have forced police officials to suspend Orme and to engineer a major reorganization of personnel at the SPD's Special Operations Unit and Intelligence Unit. Police have cautioned that officers who were being reassigned were not necessarily guilty of any wrongdoing.
The allegations against Orme follow the recent high-profile claims of police engaging in extrajudicial killings during their crackdown on illegal drug traffickers. They also come hot on the heels of a spate of kidnappings of foreign national gamblers who found themselves unable to repay their gambling loans.
SOUTH KOREA GETS TOUGH WITH KIDNAPPING VICTIMS
Many of these kidnapping victims have been from South Korea, which allows its citizens to gamble at only one of that nation's casinos. This month, the South Korean Embassy in Manila reported that 15 casino kidnapping cases involving Korean nationals had been reported since April.
One of these cases involved a Chinese private lender who detained a Korean woman after she couldn't repay a $13,300 loan made at a Manila casino. The lender reportedly sent the gambler's family a photo of her naked with her head shaved. The gambler was released after a week when her family paid the requested ransom.
After their release, many of these Korean gamblers refuse to cooperate with Philippine police, thereby making it more difficult for police to track down the kidnappers. As a result, the embassy is urging South Korean police to investigate the incidents once the gamblers make it home.
South Korea has some of the strictest gambling laws on the books, and their rules don't stop at the water's edge. South Koreans who engage in gambling while overseas that is not considered "just for momentary pleasure" can face prison sentences of up to three years. If South Korea decides to make an example or two, future kidnapping victims could prove more cooperative with their Philippine police rescuers.
Comments