Basketball legend Earvin "Magic" Johnson is scheduled to grace this year's Global Gaming Expo (G2E) at the Sands Expo in Las Vegas.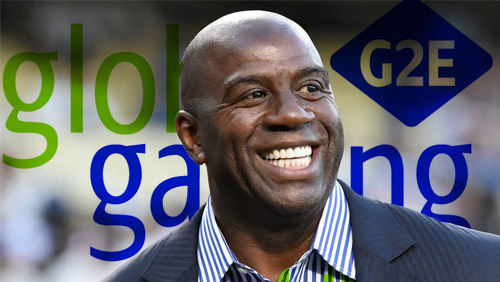 On Thursday, the NBA legend and two-time Hall of Famer will deliver a 30-minute keynote address in which he will share how he transitioned from an athlete into a business executive, parlaying the skills and tenacity he acquired on the court into a winning formula for successful business ventures.
Johnson retired from the NBA over 20 years ago, and has since morphed into a business powerhouse. Currently, he is the chairman and chief executive officer of the Magic Johnson Enterprises, an investment conglomerate valued at an estimated $1 billion, whose business interests include EquiTrust, a $14 billion financial services company; ASPiRE, an African-American television network; and SodexoMAGIC, a food service and facilities management company. In 2012, Johnson made history when he paid $2 billion to become a co-owner of the Los Angeles Dodgers.
After his speech, Johnson will engage in a 15-minute conversation with American Gaming Association (AGA) President and CEO Geoff Freeman. The two will talk about the future of sports betting legalization in the United States.
"Magic Johnson's experience on and off the court has helped shape his successful business career," said Freeman. "I look forward to talking with him about the future of sports betting."
Aside from Johnson, G2E Las Vegas, which will run from October 3 to 5, will also feature different industry leaders who will explore individual states approaches at putting pressure on the federal sports betting ban.
Another panel will examine the success of established European markets and current iGaming operations in the U.S., with experts offering predictions on what's to come if sports betting is legalized across the county.
First held in 2001, G2E has become one of the world's largest gaming trade event showcasing the technologies, services and products of exhibitors, providing an atmosphere to explore, network, do business and learn.
Expect around 428 companies and organizations to flaunt their goods and services on the exhibit floors. For the list of speakers, full schedule and workshops, visit the official G2E website.
Comments