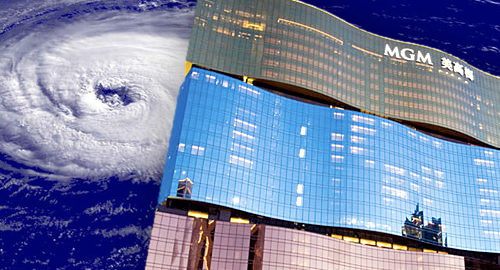 Casino operator MGM China says it's pushing back the opening of its new integrated resort in Macau due to damage caused by Typhoon Hato.
In a filing with the Hong Kong Stock Exchange on Friday, MGM China said its previously stated Q4 2017 timeline for the opening of its in-development MGM Cotai resort casino was no longer attainable, and thus the company was delaying the property's launch date until January 29, 2018.
Many of Macau's casinos were forced to completely shut down in mid-August due to Typhoon Hato, the most powerful storm to hit the special administrative region of China in 53 years. Ten Macau residents lost their lives as the storm raged, bringing widespread power outages and flooding.
MGM Cotai didn't escape Hato's wrath, and the company says repairing the damage will "slightly" delay the inspections by local government officials that are necessary for MGM Cotai to obtain its various operating licenses.
On the plus side, MGM says it believes the damages will be "substantially covered" by the property's insurance. Regardless, the company says the repairs will add to the project's costs, leading MGM to revise the overall budget from HKD 26b to HKD 27b (US $3.45b), excluding land and capitalized interest.
MGM Cotai has had its share of recent hiccups, including what the company claimed was a "small fire" at the building site earlier this month.
MGM Cotai will be MGM China's second Macau casino property and its first on the so-called Cotai Strip. MGM China is majority controlled by MGM Resorts International, which boosted its stake to 56% one year ago in a $325m deal with joint venture partner Pansy Ho.
MGM China generated revenue of $449m and operating income of $43m in the three months ending June 30. MGM Cotai is expected to seriously goose the company's future earnings but the delay in opening MGM Cotai means MGM will have to wait until Q2 2018 to report a full quarter's performance.