Japan-listed gaming conglomerate Universal Entertainment Corporation has denied reports that casino mogul Kazuo Okada is back on the company's board after his ouster in June.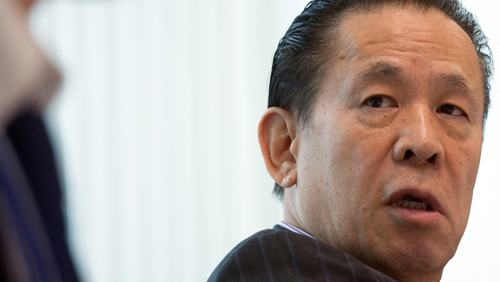 Universal issued a clarification to the Japan Association of Securities Dealers Automated Quotation (JASDAQ) after Reuters ran an exclusive story that Okada had reinstalled himself as director of Okada Holdings Ltd, the Hong Kong parent of Universal.
Okada's daughter Hiromi reportedly had a change of heart, throwing her support to the embattled Universal patriarch. That gives Okada an upper hand in the company tug-of-war since he holds 46.4 percent of Okada Holdings while his daughter had 9.8 percent.
In a regulatory filing, Universal maintains that the Company has not received a legal, valid demand to convene an extraordinary shareholders' meeting from Mr. Okada and that the Reuters report has no basis in fact.
"Today, upon verifying the situation with Makoto Takada and Atsunobu Ishida, whom the company understands to be registered as directors of OHL, the Company received the response that Mr. Okada has not in fact legally acquired and maintained majority voting rights in OHL, including proxies to exercise voting rights in place of OHL shareholders, nor has he been reinstalled as "representative" or "director" of OHL," Universal said.
The company contends that it has accepted the report of its Special Investigative Committee finding Okada liable for committing three fraudulent acts for his personal gain.
These fraudulent acts include the multi-million dollar illegal fund outflows from its Hong Kong-based subsidiary Tiger Resort Asia Ltd (TRA); the alleged illegal use of Universal Entertainment Korea Co Ltd to create a security interest for an $80-million financing deal for Okada Holdings; and the 2015 transfer of an HKD135-million (US$17.3-million) loan with no collateral and no interest to TRA.
According to Universal, the company is already examining the measures it will take against Okada and Yoshinao Negishi, former director and general manager of Universal's Administrative Division.
"The Company has sincerely and solemnly accepted the Investigative Report obtained by the Special Investigation Committee from a professional and objective standpoint and submitted to the Company by the Committee on August 29, 2017," the firm said. "Based on said investigative results and measures to prevent the reoccurrence of the investigated acts as suggested by the Committee, the Company will formulate such measures in detail and proceed to execute them going forward."
Comments