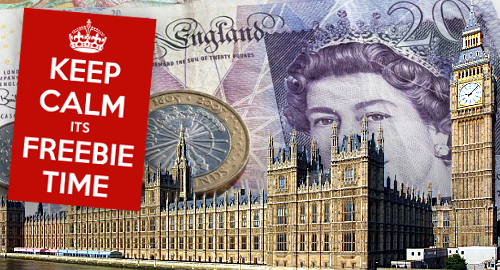 UK gambling firms were among the top providers of free gifts and hospitality to Members of Parliament, with Ladbrokes Coral making more individual donations than any company in any sector.
Friday saw the release of declarations in the Register of Members' Interests, the annual list of freebies that MPs are required to reveal if the total of such gifts from a single source tops £300 over a one-year period.
This year's list included 187 donations from UK sources, of which more than 10% (19) came from betting companies. Ladbrokes Coral accounted for 15 of the betting firms' comps, all of which went to just four MPs, including eight to Tory Phillip Davies, who chairs the All Party Parliamentary Group (APPG) for Betting and Gaming.
These freebies included MPs receiving trips to races at Ascot, Doncaster and Cheltenham, the Football Association's Community Shield event at Wembley Stadium, and dinner at the Conservative Party's annual conference. Altogether, Ladbrokes Coral's largesse toward these four MPs totaled £7,475. It's worth noting that this sum was only large enough to give Lads Coral seventh place on the list of donations by total value.
Davies issued a statement saying his prominent role on the APG meant it would "be rather extraordinary if I didn't" meet with members of the betting industry. Lads Coral issued its own statement, saying "of course we engage with politicians," given that it employs over 25k people and thus it wanted to make sure that when decisions are taken that affected its employees, these decisions "are done from a position of knowledge."
The timing of the annual disclosure is unfortunate, coming just days after the UK Gambling Commission slapped a record £7.8m fine on online gambling operator 888 Holdings for failing to protect problem gamblers and one week after new national survey results indicated a rise in problem gambling behavior.
The disclosure also comes as the Tory government is preparing to release the results of its triennial review of the gambling sector, which will likely recommend further curbs on gambling advertising and reductions in the maximum stakes of the fixed-odds betting terminals (FOBTs) in bookmakers' betting shops.
Comments