A trio of tales from the World Poker Tour, including news of the billionth dollar payout at the WPT Legends of Poker, a resounding success in Brazil, and a friendly bust in Reno.
I have a triumvirate of tales of the unexpected from the World Poker Tour (WPT), and we'll begin at the Bicycle Casino in Los Angeles, and the 16th WPT Legends of Poker.
The event attracted 763 entrants, making it the second-largest, WPT Legends of Poker in history, and it drew more attention than a dancing dolphin because the player finishing in 47th place would receive the WPT's one-billionth payout dollar.
The man featuring in most headlines tomorrow morning will be T.J.Shepherd, and it's a tale that was not only unexpected, but it should also be read to the vibe of melodious harps.
It was Shepherd's first WPT event, he qualified via satellite and played against his idol Mike Sexton, weeks after reading his autobiography. Sexton kind of wishes he sat somewhere else. Shepherd eliminated the WPT legend.
After tripling up with his last 10k big blind, with 1k left behind, Shepherd got it in against Allen Le holding KJ v 66, only to see Le flop a set. The tournament halted for 10 minutes so Adam Pliska could pull the bells and whistles out of the cupboard.
For his troubles, Shepherd wins a $10k package to next season's WPT Legends of Poker. All players from 1 – 47 also received a free bottle of wine courtesy of their event sponsor COLOR wine.
The play ended with 24-players left in the bloody war, including former WPT Player of the Year JC Tran, WPT Champions Club members, Tuan Le, Marvin Rettenmaier, and the new Raw Deal host Phil Hellmuth Jr.
Raphael Francisquetti Wins WPT Brazil 
The first-ever WPT Brazil will be the first of many WPT Brazil's after 3,386 entrants turned up to savour the famous brand.
Raphael Francisquetti took down the top prize of R$781,546 after beating Fernando Akyo Konishi in heads-up action. The only member of the final table not from Brazil was a man who isn't from anywhere. The former WPT Player of the Year, Faraz Jaka, finished seventh.
The R$2m Guaranteed was more than doubled.
Here are the final table results:
1. Raphael Francisquetti – R$781,546
2. Fernando Akyo Konishi – R$469,700
3. Alex Gelinski – R$307,800
4. Felipe Guimaraes – R$226,800
5. Valciz Mello – R$168,100
6. Kadu Campion Rozzi – R$134,100
7. Faraz Jaka – R$104,900
8. Caio Augusto Maciel – R$85,800
9. Rhelton Luiz de Carvalho – R$66,800.
Tony Piscitelli Wins the WPTDeepstacks Reno Summer Main Event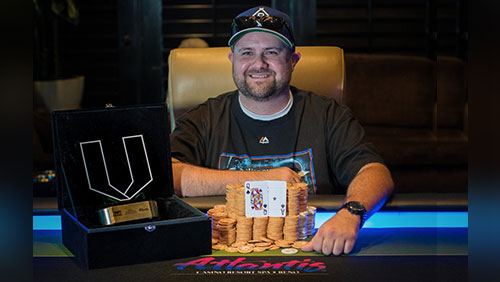 Finally, Tony Piscitelli and his best friend, Jacob Copp created a memory to savour when the pair made the top three spots of the WPTDeepStacks Reno Summer Main Event.
The field hit the 264 player mark, and Piscitelli was the last man sitting after eliminating his best buddy in third, and Jeff Farnes in heads-up action. The final table was over in less than three hours.
The lad from Richmond, California wins a $3k season-ending WPTDS Championship package as well as $56,468 in prize money. Before this event, Piscitelli had only accrued four scores with nothing over $1.5k.
Final Table Results
1. Tony Pisicitelli – $56,468*
2. Jeff Farnes – $39,735
3. Jacob Copp – $25,535
4. James Mitchell – $18,895
5. Patrick Wall – $14,185
6. Kenneth Horrell – $11,340
7. Mitch Ames – $9,370
8. Martin Gorenc – $7,560
9. Cary Schultz – $5,650
*Denotes a $3k WPTDS Championship Package
The next WPTDS event takes place in the Casino Vilamoura, Portugal. The €1,100 buy-in event begins August 31. The next North American bash takes place at the Seminole Casino Hotel Immokalee, with the $1,100 buy-in event starting September 8.
Comments