Whether Saturday night's Floyd Mayweather-Conor McGregor fight is historic or a farce remains to be seen, but it has been a boon for the sportsbooks. The bout is on pace to take more action than any event this year other than the Super Bowl and the NCAA Tournament. And heavy action has been on the underdog, moving the line to Mayweather at -450 and McGregor at +325.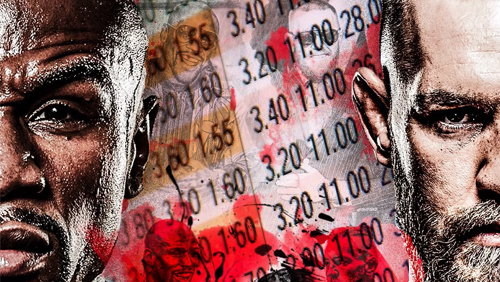 Cross-sport props are generally only released for mega-events, and this fight is no different; for example, total knockdowns by McGregor at +200 against total home runs by MLB HR leader Giancarlo Stanton (-300) of the Miami Marlins in their game Saturday at home vs. San Diego.
Stanton has hit 22 homers in 208 at-bats at Marlins Park this year entering the weekend. If McGregor knocks down Mayweather it will be an upset because "Money" has been officially knocked down just once in his career: He took an eight count against Carlos Hernandez in 2001 but would eventually win easily.
How about completed rounds in the fight? The primary over/under is 9.5 rounds (over at +125 and under at -175), although there are props for nearly every round on the total. UFC fights have a maximum of five rounds, and only title fights. The Irishman has gone to a fifth round just once, a majority decision win over Nate Diaz in their rematch at UFC 202.
Most of Mayweather's fights go the full 12 rounds because he's such a defensive technician and avoids being hit. A total of 23 of his 49 wins are by decision, including the past seven. You can bet completed rounds at -105 vs. runs scored in the Twins-Blue Jays game (-135) in Toronto on Saturday afternoon. The projected starting pitchers are Minnesota's Dillon Gee (1-0, 2.84 ERA) and Toronto's Marco Estrada (5-8, 5.07 ERA).
Or completed rounds (-140) vs. total strikeouts by Giants ace left-hander Madison Bumgarner (even) on Saturday night in Arizona. Bumgarner, who missed a large chunk of the season due to a shoulder injury, has 74 strikeouts in 78.1 innings. In two starts this year against the Diamondbacks, he has whiffed 18.
Finally, T-Mobile Arena is hosting another highly anticipated boxing match on September 16 when unbeaten Gennady Golovkin puts his WBA, WBC and IBF middleweight titles on the line against Canelo Alvarez, whose only career loss was to Mayweather in 2013. Mayweather-McGregor is -550 to end first (round-wise), compared to Golovkin-Alvarez (+325).
Comments