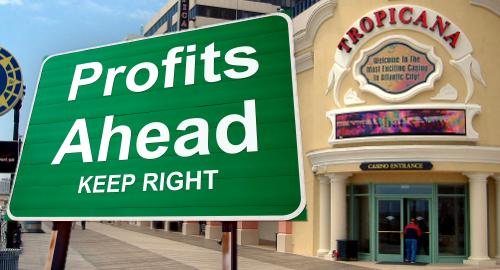 Atlantic City's seven surviving casinos saw their collective net profit jump by nearly one-fifth in the first half of 2017 despite revenue remaining relatively flat over this period.
Figures released Tuesday by the New Jersey Division of Gaming Enforcement (DGE) show total casino revenue of $1.69b in the six months ending June 30, a mere 0.6% rise over the same period last year.
However, H1 operating profit spiked 19.1% to $308.6m, although this was slightly below the 21% profit rise reported in H1 2016. For the second quarter by itself, profit was up slightly less, rising 11.1% year-on-year to $169.4m, while revenue actually fell 0.5% to $876.6m.
It should be noted that both prior-year periods featured contributions from the now shuttered Trump Taj Mahal, which closed in October 2016. The Taj was subsequently acquired by Hard Rock International, who plan to relaunch the property in summer 2018 as Hard Rock Atlantic City following a $500m music-themed makeover.
The H1 2017 revenue gains came entirely via gaming revenue, which improved 2.4% to just under $1.24b. All other revenue verticals were in negative territory, including room revenue, which fell 5% to $183.9m despite occupancy rising nearly seven points to 85.8%. Food & beverage revenue was down 4.6% to $200.8m while entertainment & other was essentially flat, falling $86k to just over $71m.
As usual, MGM Resorts' Borgata posted the biggest H1 profit, rising nearly 22% to $129.4m, more than twice the $49.7m (-13.1%) earned by runner-up Harrah's, which was one of only two casinos to post a year-on-year decline (the other being Bally's, another Caesars Entertainment property). The Tropicana posted the biggest percentage gain, rising nearly 106% to $35.1m.
Casino Control Commission chairman Matt Levinson celebrated three straight quarters of double-digit profit growth, and suggested the seven surviving casinos "must be doing something right."
The DGE also broke out figures for the state's two online-only gaming operators, Caesars Interactive New Jersey (CIENJ) and Resorts Digital, which appear to heading in opposite directions.
CIENJ's H1 revenue was up 4.7% to $13.9m, but its operating profit dipped nearly 16% to $4.4m. Resorts Digital, which added PokerStars to its online roster in March 2016, saw its revenue jump more than two-thirds to $16.4m while posting an operating profit of nearly $1.9m versus a $1.1m loss in H1 2016.
Comments