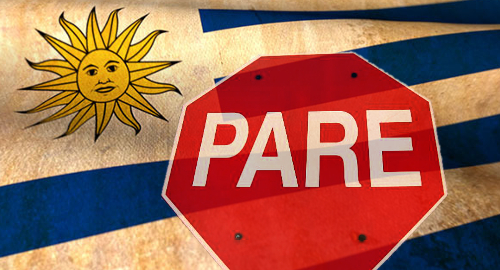 Uruguay is the latest Latin American country to consider blocking the domains of internationally licensed online gambling operators.
This week, Fernando Serra, a tax advisor to Uruguay's Ministry of Economy and Finance, told El Observador that the government was wrestling with how to tax new digital services like Netflix or Spotify. As part of that discussion, Serra said that the government was "beginning to study the possibility" of drafting legislation that would allow local authorities to block the "signals of the online game."
Not for nothing, but Serra's comments came just two weeks after National Party deputy Jorge Gandini publicly railed against a Uruguyan football team playing a match while wearing shirts emblazoned with online bookmaker Sportingbet's logo. In case you hadn't grasped this fact already, online gambling is illegal in Uruguay.
Uruguay's increasing hostility toward international online gambling sites follows the recent announcement by Colombia's Coljuegos gambling regulator that it had begun blocking some of the 325 domains on its online blacklist. Coljuegos president Juan Pérez Hidalgo said this week that up to 80 sites were now being given the digital heave-ho.
Argentina has also got in on the action, although so far its attention appears focused on local scoundrels. Last week saw the Public Prosecutor's Office in Buenos Aires order the suspension of a domain belonging to Miljugadas, an online site operating out of Argentina's Misiones province, for taking bets from Buenos Aires punters.
Argentina's federal government has recently been making noises about creating a federal agency to oversee online gambling, but this has been met with pushback from provincial lottery operators, who maintain that they don't intend to cede control over any gambling activity within their respective borders.
Just this week, Alfredo Monaco, president of the Association of State Lotteries of Argentina (ALEA), was quoted in local media reminding the feds that the National Constitution delegates authority over gambling to the provinces, and thus any federal online gambling bill that didn't respect provincial authorities would be unconstitutional.
Monaco said ALEA is in favor of modernizing the country's gambling market but care must be taken to ensure provinces that want online gambling can't take bets from punters in provinces that don't want it. As such, ALEA "favors the consolidation of interjurisdictional agreements that allow the exploitation of bets, respecting the constitutional powers of the provinces and the Autonomous City of Buenos Aires."