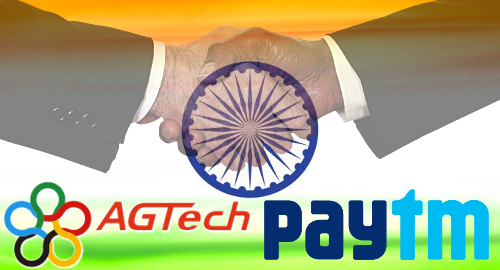 Hong Kong-based lottery technology supplier AGTech Holdings has inked a joint venture deal to enter India's online gaming market.
On Monday, AGTech announced that its AGTech Media subsidiary had entered into a partnership with Paytm Group, an offshoot of Indian payment processing and e-commerce firm Paytm Holding, to develop and operate platforms for online and mobile games. AGTech will hold 45% of the JV while Paytm will control the remaining 55%.
AGTech, which primarily provides retail technology to China's provincial lottery administrators, is owned by Alibaba Holding and Ant Financial, and Paytm is an associate of the latter company, making the JV a connected transaction.
The JV partners will make an initial investment of around $16m to fund the development of online and mobile games tailored for the Indian market. AGTech has some experience in developing games for Chinese customers, including virtual sports products via a separate JV with UK bookmakers Ladbrokes, while Paytm will use its massive distribution network (spanning 225m users in India) to ensure the widest possible exposure for the JV's new products.
The JV marks AGTech's "first significant strategic international expansion," which is probably overdue, given the company's long history of profit-challenged quarters at its core Chinese operations. There's no indication as yet that the JV partners plan to offer real-money skill game products in India, likely due to ongoing confusion as to the legality of such activities in different Indian states.
AGTech has stpped up its diversification efforts since being acquired by the Alibaba Group in March 2016. This January, AGTech inked a five-year deal with China's Chess and Poker Center for for the exclusive rights to competitive play involving the Guan Dan card game. More recently, AGTech announced a JV with Shenzhen delivery service SF Express Co Ltd to expand the market for instant-win lottery scratch tickets.